In The Holiday Gift by RaeAnne Thayne, Widowed a couple of years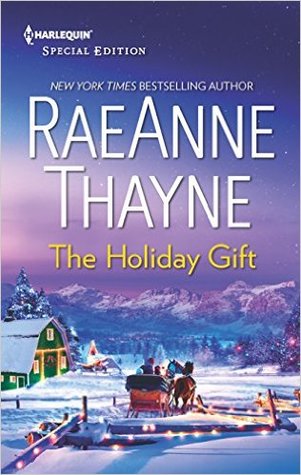 ago, Faith Dustin has taken over running her family's ranch and is surprised to discover that she's pretty good at it. It certainly helps that her two young children pitch in, as well as her neighbor and longtime best friend, Chase Brannon. It comes as a shock to Faith when Chase admits he has feelings for her and asks her out on a real date. She's just now feeling stronger since losing her husband and doesn't know if she can let herself get involved with someone else again. And even though she knows she feels the same way for Chase, she doesn't want to lose the stability of his friendship.
'He was her best friend and knew all her weaknesses and faults. Surely he knew she was a giant coward at heart, that she didn't want these new and terrifying feelings.'
Chase is glad that he was around to help Faith and her family out as they bounced back from losing Travis, his good friend and Faith's husband, in an ATV accident. Over the past couple of years he's become almost a part of her family and now he wants to takes things a step further by telling her how much he loves her. Chase may have lost his chance with Faith after she first moved to Pine Gulch twenty years ago, but he's determined to prove to her how good they can be together. With the magic of Christmas in the air, he hopes he can soothe her fears and turn this into the best holiday they've ever had.
"You are my oldest and dearest friend, Chase. Our friendship is one of the most important things in my life."
He wanted to squeeze her hand, to tell her he agreed with her sentiments completely, but he didn't dare to touch her again right now.
"Ditto," he said gruffly.
She drew in a breath that seemed to hitch a little… "That's why I have to ask you not to kiss me again."
There's so much to love about a solid friends-to-lovers story and no one can write it as sweet as RaeAnne Thayne can. The Holiday Gift–as you can tell by the title–was holiday-themed, set in picturesque Pine Gulch, Idaho. One of my favorite places to 'visit' at Christmas.
There are certain authors' holiday books I look forward to each year and that definitely includes RaeAnne Thayne. Her stories always have just the right amount of seasonal joy balanced with romance and family issues to keep things interesting. Genuine characters and honest emotions ruled the pages in this particular story, with our main characters fighting to hold onto their solid friendship as they explored the possibility of a love match between them.
If you've read any of the other Cold Creek books, you know that Chase and Faith getting together has been a long, long time coming. I loved seeing their twenty-year friendship blossom into something totally new, even though it scared Faith senseless. Chase was his standup, helpful self but it was nice to see him push her a little bit out of her comfort zone to (eventually) admit her feelings. Theirs was a passionate connection but it was tender as well, making their scenes together so wonderful to read. I did get somewhat frustrated with how vehemently Faith denied her feelings for Chase for so long but thanks to his patience and some gentle prodding by her family, it all worked out perfectly. And be on the lookout for updates on her two sisters, Celeste and Hope, and their families over the course of this story. What a happy holiday it turned out to be for all of them!
Filled with heart, good intentions, and an abundance of love, The Holiday Gift will be sure to please readers and become a story to revisit each holiday season.

Book Info:

Publication: November 22nd 2016 |  Harlequin |
A COWBOY FOR CHRISTMAS
With two kids and an active life, widow Faith Dustin only wants peace and quiet for Christmas. But her snowy Pine Gulch ranch is nothing but chaotic. All that keeps Faith going is her helpful neighbor, cowboy Chase Brannon. He's always been "good ol' Chase," her faithful friend. Until he kisses her under the mistletoe…
Years ago Chase blew his chance with the woman he's loved since childhood. Now he's determined to step out of the friend zone…and into the role of husband. But the scared and stubborn Faith won't let herself fall. With Christmas just days away, Chase will need all the magic of the season—and the help of her two matchmaking children—to unwrap a second chance at love.