The Invisibles by Cecilia Galante immediately draws the reader into the story with its vivid descriptions and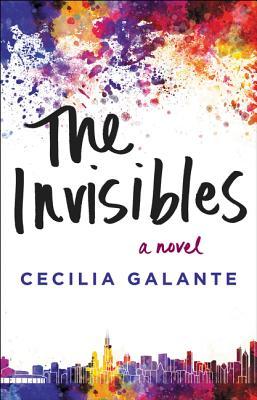 feelings of despair and heartache. As the story unfolds we are thrown into the past, living out the scene as it just happened. These past experiences are necessary for the reader to really understand the story as a whole and to make the reader feel the many different emotions that are happening…and trust me, you will FEEL the emotions.
The Invisibles in a group of four girls that were in the same group home together. These girls had to be taken out of their real home because their parents were unfit in some way. No one cared for or about them.
"Think about it. We've been invisible to most people for most of our whole lives."

They band together and form an unbreakable friendship.

"Except that now we have a choice. We can choose to be invisible to everyone."
They connect with each other on a deeper level and sympathize with what the other person must be going through and promise to be there when needed.
I went into this story with my eyes open, but I was still unprepared for what laid ahead. As I was reading, I felt like I was on this roller coaster with feelings of despair, misery, and hopelessness pulling me in all kinds of directions. As each of the girls' story unravels, the more emotions the reader is hit with. These four girls went through some really cruel experiences as kids and go through more troublesome times as adults. We're talking about attempted suicide, molestation, physical abuse, and abortion…just to name a few. It all became too much for me. I struggled to finish the story because there was no way to make all the problems go away, but at the same time I owed it to the characters to finish their story and read what happened.
This is not one of those books where you feel happy at the end. To me, there was no happy ending. Sure, the girls were better off than they were in the beginning, but not by much. I will concede to the fact that at the very end, they each make decisions to let the past go and change how they are in the present, which shows how much they have changed from the beginning of the story, but it wasn't the resolution I was looking for. One of the elements to this story that I really did enjoy was how this author weaved the past and present so effortlessly.
For this review, I had to take a step back and let my emotions cool down, before rating this book. Overall I am giving this book a 4…only because the emotions will pull readers in and keep them glued to the pages, as they read exactly what happened to each of the girls. Many readers might not need a happy story and will appreciate this book. For me, this was too much and this is not a book I will consider reading again. I am desperately trying to forget I even read this because I still feel so much. The only warning I can give readers is be prepared to cry and be prepared to feel.

Book Info:

Publication: August 4, 2015 | William Morrow Paperbacks |
Thrown together by chance as teenagers at Turning Winds Home for Girls, Nora, Ozzie, Monica, and Grace quickly bond over their troubled pasts and form their own family which they dub The Invisibles. But when tragedy strikes after graduation, Nora is left to deal with the horrifying aftermath alone as the other three girls leave home and don't look back.
Fourteen years later, Nora is living a quiet, single life working in the local library. She is content to focus on her collection of "first lines" (her favorite opening lines from novels) and her dog, Alice Walker, when out-of-the-blue Ozzie calls her on her thirty-second birthday. But after all these years, Ozzie hasn't called her to wish a happy birthday. Instead, she tells Nora that Grace attempted suicide and is pleading for The Invisibles to convene again. Nora is torn: she is thrilled at the thought of being in touch with her friends, and yet she is hesitant at seeing these women after such a long and silent period of time. Bolstered by her friends at the library, Nora joins The Invisibles in Chicago for a reunion that sets off an extraordinary chain of events that will change each of their lives forever.
The Invisibles is an unforgettable novel that asks the questions: How much of our pasts define our present selves? And what does it take to let go of some of our most painful wounds and move on?