In The Island House by Nancy Thayer, The island of Nantucket might not be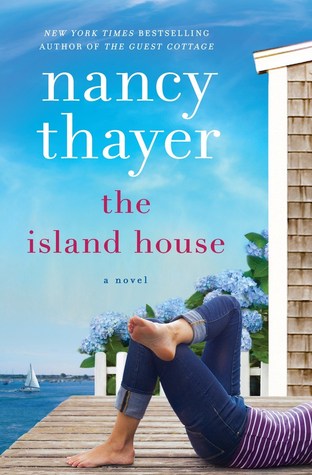 Courtney's 'real' home, she lives in the Midwest, but it is definitely one of her most favorite places to spend the summer. She's been visiting the island and staying at the Vickerey's huge house since she was in college and befriended Robin Vickerey. Now a decade later, Courtney finds herself with a decision to make. She's quietly been in love with Robin's brother James for years. But now that she finds out it might be mutual, her best male friend Monty Blackhorse is professing his feelings for her too. Who should she choose?
"Wait." Courtney held up a hand. "Give me moment here. Did you just say that you love me?"
He smiled. She smiled back at him, and for one long warm delicious moment they moved outside of time and space and hung suspended in their own world.
Robin loves all the now grown 'summer children' her mother lets stay at their island home every year and looks forward to catching up with her friend Courtney, especially. But there are things she hasn't told anyone that are beginning to weigh her down. Things that could change whether she stays on the island for good. With family problems creeping up and the drama surrounding the group of people staying for the summer, Robin has a lot to decide and must take into account how it will affect everyone around her.
'Robin averted her eyes. Courtney was her best friend in the world, had been for over a decade. And she was right–Robin did keep secrets from her. From everyone.'
Set in picturesque Nantucket and full of interesting people coming together for the summer under one roof, The Island House was a story dominated by romance, family problems and tough choices.
Nancy Thayer excels at writing stories with beautiful settings, described in lush detail which makes me want to visit the locations. And while this might not be my favorite of her books, The Island House was still an interesting read with its cast of (many) quirky characters. I really did like Courtney and Robin, who were our main protagonists, although we got multiple POVs throughout the story. They were very different from each other, but both women were at a crossroad in their lives. Their friendship was great and was one of my favorite parts of the story.
I think what threw me off a bit here was two things: the dialogue and the quick way in which the characters moved on from their romances. For me, the conversations sometimes came across as a bit stilted or like the timing was off. There were a few poignant moments where the dialogue worked well, but the overall flow of it seemed different than what I'm used to with Thayer's previous work. And two of the main romance threads felt melodramatic instead of being believably intense. They ended very suddenly, making the relationships seem more like that of a soap opera. Thankfully some of the other romances balanced things out with their steadiness and inevitability.
Nancy Thayer was on to something with a story about fully grown 'summer children' coming back to their lovely island home for one more season. Their antics and life changing decisions will keep you guessing and hoping everything works out for the rambunctious group.
Book Info:

Publication: May 31st 2016 | by Ballantine Books |
The charms of Nantucket tempt a woman to leave her established life in Kansas City—but with a piece of her heart, and a love interest, in each world, she discovers she must look within to choose the right path.
Every summer since college, twenty-nine-year-old Jenny has traded the familiarity of the Midwest for the allure of Nantucket. Now an established university professor in Kansas City, she finds herself caught between two lifestyles and two very different men. She chooses Nantucket and the glamorous life she associates with it, unaware that the summer will take an unexpected turn, and she will have to let her heart decide what it truly wants.