Betting on the Rookie by Stephanie Doyle: Sports agent Samatha Baker needs a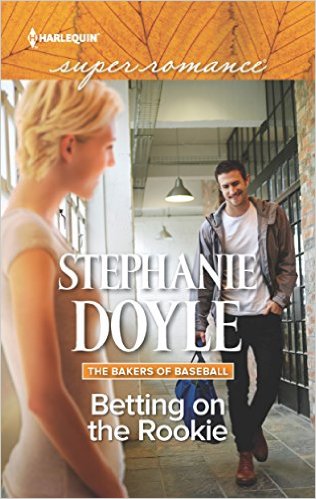 comeback after backing the wrong client, and her only hope looks to be Evan Tanner, the late-blooming baseball heavy hitter. Evan is more than happy to have Sam be his agent. He desired her when he met her two years ago, and it hasn't lessened a bit. Now he just has to break through her barriers and see she can trust him.
But as they get caught in their new romance, a girlfriend from Evan's past comes back claiming her seven year old son is his child, and that she needs money from his major league deal to pay for her son's hospital bills.
Softhearted and trusting, Evan wants to help, but as Sam gets involved as his agent, it brings to light the deeper issues of trust between them.
"Here's the thing, though, Sam. I've learned a lot in the last few years since I first met you. I've learned you don't get anything in this world you truly want without taking some risks. While our situation might not be ideal, don't think it means I'm not going to try for it. For you."
Evan is perfect. He's such a sweetheart, both giving and tough when he feels he needs to be. I didn't always agree with him, but I always loved him. Sam, too, while initially colder, I fell in love with too as Evan broke through. They match up perfectly. I would've loved to have seen them be in a true relationship for a bit longer, but I did love the back and forth, and their chemistry.
I just really wish the external conflict wasn't a past girlfriend with a son. There were even parts with her POV which was unnecessary. I think it did cause good internal conflict for the characters as they fought over their romance, and the ending of this arc didn't end badly, I would just have preferred it to have at least been less important in the story. At times, it took over the romance between Sam and Evan, which is actually what I really wanted to delve into.
With a great community of characters and an awesome take on the baseball world, I recommend Betting on the Rookie for any sports romance fan. Not necessary to read the previous in the series, but I know I plan on it.
Book Info:

Publication: June 1, 2016 | Harlequin SuperRomance | The Bakers of Baseball
They've both got their eye on the prize
Sports agent Samantha Baker needs an epic comeback after the disaster that destroyed her career. Just one client, and she'll prove she can do this thing again. And that one client has to be Evan Tanner. A late-blooming rookie with talent for the record books, Evan's got everything it takes.
And, sure, Evan can win on the field, but winning over Samantha is a whole other ball game. She's been hurt personally and professionally, so just one lie will strike him out for good. So while Sam's intent on the major league, Evan won't give up on an even bigger prize: the trust of this woman he loves.