The Italian's Christmas Housekeeper by Sharon Kendrick is a holiday themed Cinderella style story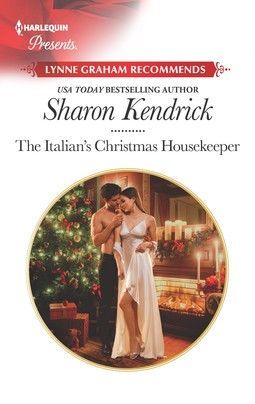 with a housekeeper who meets a wealthy billionaire and finds herself living a brand new life.
Molly Millar lives a lonely existence as a live-in housekeeper for a wealthy couple who are often away. But when they are home they entertain guests, including their latest, Italian businessman Salvio de Gennaro. Her employers are often rude to Molly and talk down to her in front of their guests, something which she is used to but still finds upsetting. When Salvio hears her crying late at night he offers her some comfort, and his kindness leads to a sexy night together. Salvio leaves the next morning but to Molly's dismay, her employee finds her leaving his room and figures out what's happened. Soon Molly finds herself without a job – and pregnant. Calling the number Salvio had left her as a generous gesture should she need employment, she ends up at his English home and with the discovery of her pregnancy, Salvio offers her marriage. For a woman of her circumstances, it's a chance at a new life. But can it also lead to love?
This is one case where I feel that the synopsis presented with the story is somewhat disingenuous. It's described as being a 'captivating Cinderella romance' and with the Christmas theme, I'd expected something lighter than what I actually got. It's rare for me to give spoilers for a book, but I'm going to do so here so if this is a book you plan on reading and you don't want to know more you should stop reading this review now.
The story starts off in a promising way, with Salvio who is himself from a poor background in Naples before making his fortune empathetic to Molly and the way her employers treat her. He's attracted to her and finds her above average figure reminiscent of the women back home. Molly is a virgin and their night together is passionate and understood by both to be a one time thing. When she ends up pregnant and jobless, Salvio is ready to step up to do the right thing and marry her. Molly has high hopes that even though Salvio doesn't believe in love, they can still have a fulfilling marriage. She travels with him to Italy for Christmas and meets his parents on Christmas Eve. Up to this point the story was progressing as expected and I was quite enjoying it.
But then things take a startling turn. On Christmas Eve, once Molly and Salvio are back at the hotel, Molly has a miscarriage in the bathroom. She hadn't been that far along so it was described as just excessive bleeding but I was shocked that the author chose to write this into a Christmas romance. And Salvio has the nerve to not believe her at first and wonder whether she'd even been pregnant! Then, just as quickly, he decides that he wants a baby after all (though he hadn't been totally keen on the idea to begin with) and still wants to marry Molly. There is no grieving period, they just get back on the program, get married and try to get pregnant.
It's downhill from there, with Salvio being an arrogant jerk most of the time, treating Molly as if she's still a servant and not his wife and the author leaving his redemption until the last possible moment. Molly does a good job of standing up for herself in the second half and the more I disliked Salvio, the more I liked Molly. But I didn't buy his sudden declaration of love and it was too little too late for me. I'm disappointed that a promising start didn't pan out. Readers who enjoy the author's books may be able to look past the issues I had and find a Christmas miracle but for me it was like finding coal in my stocking.
Book Info:

Publication: Oct 16, 2018 | Harlequin Presents |
From making the billionaire's bed…
To Christmas between his sheets!
Shy housekeeper Molly Millar always tries her best. She's anxious to impress outrageously wealthy houseguest Salvio de Gennaro, but instead is unfairly criticized by her employer! When she's found sobbing by Salvio, he comforts her…with the most amazing experience of her life. But when that incredible encounter costs Molly her job, Salvio rescues her with an irresistible proposition: become his temporary housekeeper—just in time for Christmas!
Escape into this captivating Cinderella romance!