The Italian's Doorstep Surprise by Jennie Lucas has the most exciting and intense opening. It caught my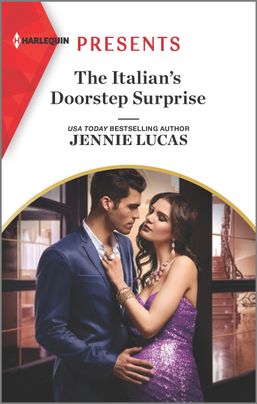 attention straight away and was brilliant at creating interest and questions that needed more answers.
I really enjoyed Honora's backstory and development of character. I enjoyed her rascal Grandfather and felt for her with what life had thrown her way. Despite life's hiccups Honora has a positive outlook on life, she sees the best in every one and hopefulness she can solve the world's problems only ends up getting her into huge trouble with Nico.
Nico stood up to his responsibilities immediately; his back story did a good job of framing his character but sometimes I felt I still didn't really know what he was thinking. His obsession with revenge has guided his life and he's not coping well with things going awry when Honora lands on his doorstep in the middle of a storm. The conflict and drama start to ramp up when Honora's rose coloured glasses start falling off.
I enjoyed Jennie Lucas's The Italian's Doorstep Surprise, there was an exciting beginning and it wrapped up with a super lovely conclusion. I like the way the drama was resolved with Nico's step mum and I thought it was an interesting twist in the standard unrequited love stories and I think Honora's grandfather deserves a star all on his own. Interesting minor characters added some texture to the story and I'm wondering if Nico's friend Theo will be redeemed with Honora's friend Emmie….
Book Info:

Publication: August 2021 | Harlequin Presents |
The truth about her baby bump:
He's the father!
When a mesmerizing and heavily pregnant woman arrives on his doorstep, Italian CEO Nico is intrigued. He can't shake the feeling they've met before…and then she announces that the child she's carrying is his!
Having spent her entire life wanting to belong, Honora could never forget her longed-for night with Nico. But it's clear he has. Even after discovering his amnesia, that hurts more than it should. While she's still reeling, Nico makes his demand: he will secure his heir, so Honora will become his wife!