In Capture the Crown (Gargoyle Queen #1) by Jennifer Estep (7/6), As a survivor of the horrific Seven Spire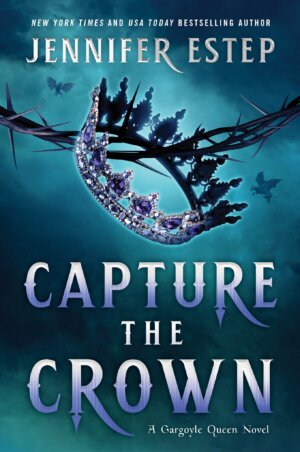 massacre in her home of Andvari, Princess Gemma Ripley has spent the last sixteen years reflecting on what she could have–and should have–done to assist. To atone for her guilt and keep her people safe, she has become a spy. Although to most people she's known as Glitzma: the beautiful princess who cares more about clothing and socializing than politics. Little do they realize that Gemma also has strong powers of her own as a mind magier, something she is still learning to control to this day.
'I had no intention of disabusing anyone of the notion that I was all sparkle and no substance. Being underestimated had helped me more than once.'
It's while Gemma, her guard, and her very own gargoyle, Grimley, are trying to uncover where precious tearstone from her family's mines is going that she stumbles into trouble. All of the clues seem to lead to the Morricone family from Morta having a hand in the dirty dealings. But as Gemma and her companions search out the truth, her best option is to band together with Prince Leonidas Morricone, a handsome man who she's known since childhood. Not sure she can truly trust him, Gemma proceeds with caution. Although her determination puts her directly in harm's way more than once as she tries to find answers and make it out of the enemy's territory alive.
'Leonidas might seem like an ally, a friend, maybe even something more, but he was still a Morricone, and I was a Ripley, and we would always be natural enemies, just like strixes and gargoyles.'
Superb world building and an action-packed plot made Capture the Crown an unforgettable reading experience. Jennifer Estep is already one of my go-to authors for fantasy, and this new series is setting up to be a wildly enjoyable ride.
'Now I had a chance to potentially save everyone in Andvari, and I wasn't going to let my people, my family, or myself down. I was *not* going to be a bloody failure. Not again.'
Trigger warning: View Spoiler »Torture, murder. « Hide Spoiler
First off, this Gargoyle Queen series is a spinoff of Estep's Crown of Shards trilogy. But you can read this as a standalone where much of what happened previously is mentioned throughout this story. Second of all, this is set in the same world/countries but is about sixteen years after the Seven Spire massacre that took place in the Crown of Shards books. So our heroine Gemma, who was twelve at the time of that terrible battle, is now in her late twenties. And she's a spy. Sort of.
I loved that Gemma created a persona so that everyone aside from those very close to her thought she was a fashionista who was more interested in gossip and people's social standings than anything serious. But in actuality, she traveled the country and neighboring lands as a spy-in-training to help keep her family and their people safe. Something that came from Gemma having survived the attack so many years ago, leaving her wanting to do her part so nothing like that would ever happen again.
Gemma's guilt, grief, and anger over the massacre fueled her sometimes reckless actions in this book. It was interesting to see how something that happened sixteen years ago still affected her and others around her–plus the way Prince Leo played a role in Gemma's life since that day. There was definitely a spark of attraction between them. But to say it was complicated is putting it mildly. Gemma and Leo's countries, let alone families, were enemies so it made it difficult to tell if the prince was being honest with her or if he was setting her up for failure.
I do want to mention for fans of high fantasy that Estep did a wonderful job with the vivid details and lush descriptions she used in each scene. In particular, it really made the fantastical beasts she created come to life on the pages, including gargoyles (Grimley!!), strixes (which were bird-like animals), and even liladorn (plants that were sentient).
Capture the Crown utterly captivated me right from the start. With complicated relationships, devious plots, and flawed characters woven into Jennifer Estep's engrossing storytelling, this is definitely keeper shelf material.

QOTD: Capture the Crown had a fairly intricate plot with a lot of backstabbing and double-dealing as people sought to take the crown for themselves. Are you a fan of involved stories with intrigue and action?

Book Info:

Publication: Published July 6th 2021 | by Harper Voyager | Gargoyle Queen #1
Bestselling author Jennifer Estep returns to her Crown of Shards world with an all-new trilogy and a bold new heroine who protects her kingdom from magic, murder, and mayhem by moonlighting as a spy.
Gemma Ripley has a reputation for being a pampered princess who is more interested in pretty gowns, sparkling jewelry, and other frivolous things than learning how to rule the kingdom of Andvari. But her carefully crafted persona is just an act to hide the fact that Gemma is a powerful mind magier—and a spy.
Gemma is undercover, trying to figure out who is stealing large amounts of tearstone from one of the Ripley royal mines when she encounters Prince Leonidas Morricone of Morta—her mortal enemy. Gemma tries to steer clear of the handsome prince, but when she finds herself behind enemy lines, she reluctantly joins forces with Leo. Also coming to Gemma's aid is Grimley, her beloved gargoyle.
Despite the fact that Andvari and Morta are old, bitter enemies, a dangerous attraction sparks between Gemma and Leo. Further complicating matters is Leo's murderous family, especially Queen Maeven Morricone, the mastermind behind the infamous Seven Spire massacre.
The closer Gemma gets to the stolen tearstone, the more deadly plots she uncovers. Everyone is trying to capture the crown, but only one queen can sit on the throne…