The Lady in Red by Kelly Bowen is the story of a woman who goes to great lengths to chase her dreams, and gets a reward even bigger than she'd imagined.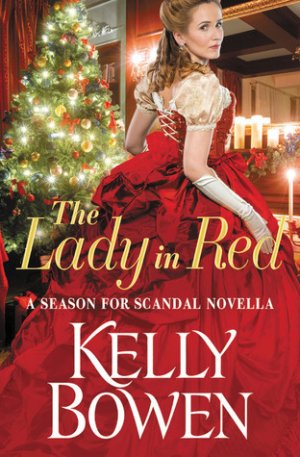 Lady Charlotte Beaumont has been largely ignored by her family for years. This absence of notice has meant she's been able to hone her artistic talents in secret, developing unmatched skills in reproductions and in creating her own stunning paintings. In desperation to change her fortunes, she turns to a known criminal to try to sell one of her forgeries – one he recognizes isn't the real thing. In return for the whereabouts of the real painting she's credibly copied, he agrees to help her. The result is a disguise and a chance to work as one of two craftsmen on a commission of Renaissance murals for St. Michael's. It's her dream job, even if she has to pretend to be a young man to get it.
Flynn Rutledge has learned the hard way that he and the nobility don't mix after a failed love affair and more worriedly, a loss of his artistic drive. Though he's got the commission to work on the murals at St. Michael's from his previous accreditation, he has lost the spark of ingenuity. That is, until 'Charlie' comes to work with him. His youthful partner helps him divine the nature of the murals that will be the talk of the town when completed. They work well together, Charlie offering Flynn friendship and quiet confidence that helps restore his lack of faith in himself. But when Flynn finds out that Charlie is really Charlotte, will it ruin their friendship or be the start of something even better?
What a lovely novella! Though the cover indicates a Christmas scene, it's light on the holiday theme as there are no extended holiday scenes. It's the time period just before Christmas when the story takes place which makes it a holiday novella, but really one that could be read any time of year.
I really enjoyed how the author was able to take Charlotte and her position in society and come up with a credible way to have her achieve her dream of working on the murals. Under the guise of attending the Haverhall School for Young Ladies, an upright and well respected school that doubles as a place where women are able to achieve more lofty goals, Charlotte becomes Charlie and gains her place at Flynn's side.
Flynn and Charlie's friendship develops honestly and cements their loyalty to each other even before Flynn discovers that Charlie is really Charlotte. It's a slow burn romance, but leads to some sexy scenes. The artistic scenes are well written and make for an interesting backdrop to the story. The conflict comes in later, as Flynn discovers Charlotte's real identity and has to make choices that will affect their future. In the end Charlotte's dreams come true, and she finds a partner worthy of her in Flynn. I'm looking forward to reading more from this author!

Book Info:

Publication: Dec 5, 2017 | Forever | Season for Scandal #3.5
A lady with secrets, a man with a burning desire, a love that breaks all the rules…
Lady Charlotte Beaumont has spent her whole life being ignored. By her parents, her brother, even the servants. So she was secretly able to develop her talent for painting well beyond the usual watercolors. Too bad no one will let her actually use it—women are rarely accepted into the Royal Academy. But when a connection at the Haverhall School for Young Ladies gets Charlotte her dream commission, she'll do whatever it takes to make it work. Including disguising herself as "Charlie."
Flynn Rutledge has something to prove. His lowly upbringing is not going to stop him from achieving his artistic dreams. This commission is the key to his future, and his partner, an unknown youth in oversized clothes who is barely old enough to shave, doesn't exactly inspire confidence. But Charlie does inspire Flynn's artistic passion—something he worried he might have lost forever. For all his street smarts, nothing can prepare Flynn for the shock of Charlie's true identity. He doesn't care that she's a woman, but a lady of the ton is a different matter altogether.