The Lake House by Christie Barlow: Ella has been conned in a most horrible way. She is left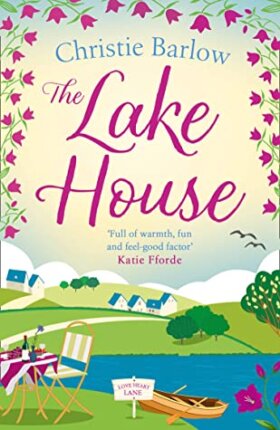 heartbroken, without her inheritance and in credit card debt. On top of that she loses her job.
Her best friend, Callie, invites her to move to the village of Heartcross and move in until she can get her life in order. As a plus ,Callie helps Ella to get a job at the famous Lake House restaurant. The Lake House has extra charm since the only way to get there is across a lake. Ella meets the handsome and charming Roman who drives the water ferry.
Everyone in the Love Heart Lane community is very welcoming and kind to Ella. Who she would really like more attention from is Roman, but he seems to hiding many secrets from his life, past and present. Will the two of them be able to forge a path ahead?
The Lake House has all the elements of a tender love story. There is a small village with charm and many unique characters. The hero and heroine are good people who have been through some true trails. I found all this very engaging.
I loved the character of Delores who was talented as well as very brave. I wouldn't mind someone with such a beautiful voice singing nearby.
My one reason for not giving this novel a higher grade was there was too much unnecessary repetition of details. This is one of my pet peeves with reading. I don't come across it too often, but when I do it is very annoying.
I have not read any other novels in the Love Heart Lane series. This book works quite well as a standalone.
Book Info:

Publication: December 31, 2020) | One More Chapter | Love Heart Lane #5
Love Heart Lane – where friends are there for you no matter what
There's a newcomer to the village of Heartcross and she's never been more in need of a friend.
As the new manager of local bistro, The Lake House, Ella is ready to start afresh ––and that could mean there's love on the horizon in the form of the gorgeous Roman, the local water taxi driver. Every day Roman is there to ferry Ella to the restaurant on the other side of the lake and every night he makes sure she gets home safe. But Roman has secrets of his own…
Can the Love Heart Lane community offer Ella a chance of a new life? Or will the ghosts of her past catch up with her?