Bride on the Run: A Clean Romance by Anna J. Stewart is the ninth book in Ms Stewart's Butterfly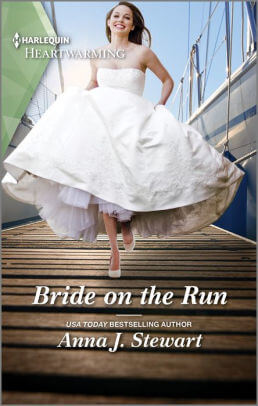 Harbor series I enjoy runaway bride stories and this is a fabulous one! I've never read one where the bride is a stowaway on a boat before. It's a fun setting.
Sienna Fairchild is a runaway bride. She just couldn't go through with it; marrying Richard Somersby, even if it would please her father. She shouldn't be giving up her own happiness to please her father. Then there's Richard! She really doesn't know him and she doesn't love him. So she runs and hides on an old boat docked at the marina next to the San Diego Empire Yacht Club, the wedding venue. The boat seems to be meant to be. It's named Nana's Dream. Sienna loved her recently deceased Nana so much. Sienna is sure her Nana has guided her to this boat. The boat's new owner, Monty Bettencourt discovers her hiding away but fortunately doesn't give her whereabouts away when Richard and her father come searching for her. Monty is about to set sail the following morning to move Nana's Dream to his home location in Butterfly Harbor. Monty agrees to take her along and Sienna agrees to take on last minute wedding planning duties for Monty's twin sister Frankie. Along the way they get to know each other and Sienna finds herself falling for Monty. But is Monty falling for her or her money?
Monty Bettencourt is co-owner of a fleet of boats he and his partners run as tour and adventure boats. Wind Walker Tours is his dream. He scraped together enough money to purchase Nana's Dream to add to his fleet in Butterfly Harbor. The stowaway he finds on Nana's Dream is a real surprise – a runaway bride. Monty can't help but agree to let Sienna make the trip to Butterfly Harbor with him. He senses her great need to escape and find herself. It doesn't hurt that Sienna is beautiful, ready to pitch in to help him on the boat, has a good heart and he is attracted to her. Their feelings for each other grow as their journey progresses. If only he can convince her he is not interested in her bank account.
The two main characters Sienna and Monty are very likable. Sienna's ex-fiancee Richard, not so much. I really enjoyed getting to know Sienna and Monty. When trouble follows Sienna to Butterfly Harbor I liked how Monty and all the residents of the town support her. The addition of the abandoned parrot, Duchess added much levity to the story. The surprises before Frankies' wedding are heartwarming. I haven't read any of the earlier books in this series but I fell in love with Butterfly Harbor so I plan to read more about it.
Book Info:

Publication: January 1st 2021 | Harlequin Heartwarming |
Finding true love…
In the unlikeliest places!Sienna Fairchild never imagined she'd be a runaway bride. Or that she'd stow away on a worn-down boat belonging to handsome tour operator Monty Bettencourt. Monty's used to navigating rough seas, but Sienna might overturn his whole life, and avoiding drama is tough in such close quarters! If Sienna's sure she doesn't know what she wants, then why does running away feel so much like coming home?
USA TODAY Bestselling Author
Butterfly Harbor Stories
Book 1: The Bad Boy of Butterfly Harbor
Book 2: Recipe for Redemption
Book 3: A Dad for Charlie
Book 4: Always the Hero
Book 5: Holiday Kisses
Book 6: Safe in His Arms
Book 7: The Firefighter's Thanksgiving Wish
Book 8: A Match Made Perfect
Book 9: Bride on the Run