The Last Man She Expected by Michelle Major: Mara Reed moved to the small town of Starlight a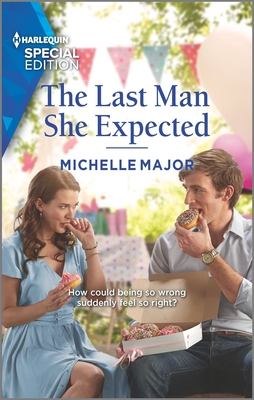 year ago after a horrible divorce left her with only her lovely five year old daughter, Evie, and not much else. She moved in with her aunt and started working at the coffee shop that her aunt owns. Mara has made a few friends in town, including Josh whose wife left right after their young daughter finished chemo.
Josh invites Mara and Evie to his daughter Anna's fifth birthday since Evie and Anna are best friends. Mara goes in the bouncie house to rescue Evie who looks a little queasy. Who should she literally run into, but Parker Johnson, the shark of a divorce lawyer who took everything from her? She never realized Parker was Josh's older brother.
Mara tells Parker that she hates him and she hopes that he is just in town for his niece's birthday party. Well, fate has other plans, Josh is trying to repurpose an old business that was once his father's. He is feeling like he is about to sink in all the things that need to be done to get his opening on time and keep from drowning in debt. Parker volunteers to take a sabbatical from his law practice and help Josh out. Being Josh's close friend, Mara gets caught up in helping and this puts her closer to Parker than she is comfortable. Not only does Parker help with the business aspect, but he starts helping Josh with the soccer team he coaches for Anna, Evie and other little girls. A truly hilarious episode stood out for me. When Josh was asked how it was coaching soccer for five year olds, he said it was like herding kittens who had just consumed a case of energy drink.
I had to admire Mara. She has had to move on despite a devastating divorce. I couldn't blame her for hanging on to some bitterness towards her husband and Parker. Josh is even more of a character to cheer for. He has been left on his own and has done a fabulous job raising his daughter as well as being a champion for change in the community.
Parker seems like the uncaring villain of the piece to start with. He claims to only be doing his job for his clients, but doesn't realize the aftermath. This is even more ironic in light of his early years. As a reader you always yearn for hope and redemption, even in the most unlikable characters.
The small town atmosphere adds an extra special feel to this charming story. It is always uplifting to read about people who are truly there for each other.
I look forward to reading His Last-Chance Christmas Family in December 2020. This is the next book in the Welcome To Starlight series. I love reading Christmas books and usually start in October when the first ones come out
The Last Man She Expected is truly the best title for this novel. Sometimes we end up with a change in our life that is totally unexpected, but just what we need.
Book Info:

Publication: August 25, 2020 | Harlequin Special Edition | Welcome To Starlight #2
How could being so wrong suddenly feel so right?
Falling for her arch nemesis
Isn't going to happen.
Moving to Starlight was Mara Reed's first step forward after her devastating divorce. But had she known she'd find Parker Johnson, her ex-husband's ruthless divorce attorney, there, she might have gone in a different direction. Away from the big city, Mara is seeing Parker in a new light—but is it enough for her to set aside her anger?