The Lawman's Christmas Proposal by Barbara White Daille: Coming home at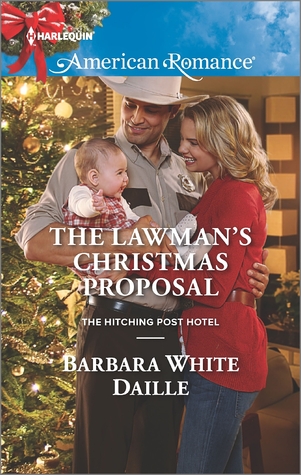 Christmas time, does that mean something magical is going to happen? Throw in a lost love and everything just seems story book perfect.
Andi Price has had a lot of loss in her young life. She's also had a lot of love. The privilege of loving two amazing men in her life and now to loving two wonderful young children. However she is now a widow and moving forward isn't quite what she thought it would be.
Mitch Weston hadn't been home in a while, too many memories. He still couldn't seem to get over her, his first real love. That didn't mean he didn't miss his family or friends or even the town. It just meant that home was attached to her. So when he came home to recovery the last person he wanted to see was her.
Thrown together by a meddling grandfather and two families that wanted to see them happy and stay in town it didn't seem like these two had much of a shot at staying apart. However matters of the heart aren't always as easy as that.
Ms. Daille has taken a familiar plot, former sweethearts coming home, and made it into a uniquely interesting story. As she gives plenty of details regarding the surroundings and the sub characters the readers are able to really view the whole picture of the story that she is attempting to tell. The plot is believable and realistic, which I have to admit brought out the tissues at points but helped me to root for the outcome more than some less that realistic stories.
The Lawman's Christmas Proposal isn't so much about the proposal but more about the love that can overcome all.

Book Info:

Publication: December 1st 2015 | Harlequin American Romance |
A husband for Christmas?
Mitch Weston's back in Cowboy Creek, and self-proclaimed matchmaker Jed Garland has his single granddaughter Andi on his mind. Mitch is a lawman, good with the little ones and easy on the eyes. He and Andi were high school sweethearts, for heaven's sake! Why can't they see they're perfect for each other?
Because Andi already lost one husband to a dangerous job, and now she's all about playing it safe, for her sake and her children's. Being a cop is everything to Mitch. After discovering Jed's plan, Mitch and Andi come up with their own: they'll pretend to get engaged and then break up due to irreconcilable differences. Jed's got his work cut out for him—because this match needs a Christmas miracle!