In The Librarian's Vampire Assistant (Book #3) by Mimi Jean Pamfiloff *6/18*, Michael Vanderhorst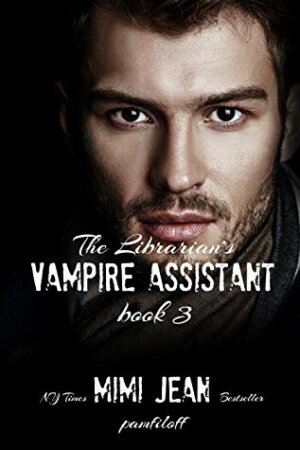 is a centuries-old vampire with the need for an unbeatable plan. As the new king of all vampires worldwide, he is tasked to find out where all of his council members have disappeared to as well as determine who is behind it all. Not a small task. Thank goodness Michael has hundreds of years of war experience under his belt and all the strategies that have helped him succeed along the way. Although he's not sure it will be enough to win the fight, when it seems he is thwarted at every single turn.
'I look over at Miriam. It's just me and her now. The entire human race and the majority of decent vampires are depending on a librarian and her assistant to figure this out and save them.'
Michael's other pressing issue relates to the potential, aforementioned war, but it is of a more personal nature. Ever since meeting Miriam, a rather klutzy but absolutely endearing, beautiful librarian, he's, well, smitten. There's no other way to explain it. His attraction to her is something Michael's never encountered in all his years. And as such, he isn't willing to part with Miriam. But as the threats against him ramp up, and secrets come out about people he thought he knew well, Michael will need to keep his wits about him. Something not easy to do when face to face with his lovely librarian.
'I am completely lost to her. This thing between us is powerful, and a part of me realizes just how dangerous that is because there is nothing I wouldn't do for her.'
Mystery solved! Well, most of it anyway. The Librarian's Vampire Assistant, Book 3 answered tons of questions, had exciting plot twists of course, and even had some hot romance for our reading pleasure. Mimi Jean Pamfiloff's zany humor paired up perfectly with the more emotional, (somewhat) serious side of our eclectic cast in this latest installment.
'That is the mystery between us. I need her. She needs me. Neither understands why or is ready to confront it. Simply put, our bond in a mystery.'
I always have a blast reading MJP's books but this particular series–and especially our hero, Michael Vanderhorst–is right up there among my favorites of her work so far. The blend of intriguing mystery with paranormal characters and sensual romance is a combination that works so well together. And boy did it make this a page-turner. So much happened and changed from scene to scene that I think readers will find this to be not only funny, as you would expect from MJP, but truly exciting as well.
There isn't really much I can talk about in regard to the plot or even the characters without giving too much away. I can say that Michael was as sexy, comical, taken with Miriam, disgusted by his crappy blue rental car (aka: caca azul), and itching to solve some mysteries as we've come to expect. He unfortunately had to rethink who he trusted and how his new role as king affected everything. We found out a lot more about Miriam herself, her family history, and about her attraction to Michael. Fans will be happy to know that Mr. Nice made a lot of appearances and was as kooky as ever–and it sounds like he'll be appearing in the next installment from the way this book ended. Which wasn't a cliffhanger! Yay! But MJP set up book 4 nicely, though.
You never quite know where a Mimi Jean Pamfiloff book will take you, but it's guaranteed to be a wildly entertaining ride–for her characters *and* her readers. If you're looking for a novel to keep you on the edge of your seat, make you chuckle and outright laugh, and gasp at the plot twists, this is the story for you.
Book Info:

Publication: Published June 18th 2019 | Mimi Boutique | Book 3
From New York Times Bestseller Mimi Jean Pamfiloff comes an uncomfortably hilarious Mystery with a heaping help of sexual frustration, THE LIBRARIAN'S VAMPIRE ASSISTANT, Book Three. (Yep! It's a STAND-ALONE. But why not read them all because…fun!)
FALLING IN LOVE WITH YOUR BOSS JUST CAN'T GET MORE AWKWARD…
Michael Vanderhorst is not your usual vampire. For starters, he works in a library, is in love with Miriam, his hot nerdy human boss who has no clue what he is, and he looks like a college student.
In reality, Michael is an ancient deadly vampire, an ex-assassin, and is currently the de facto king of his kind ever since their ruling party disappeared. To where? He doesn't know, but if he wants his life back, he'll have to find out. (Mystery!) Especially because a civil war is brewing, and being king makes his librarian a mark for his enemies. (She is, after all, his biggest weakness.)
With a global uprising about to explode, Michael must give her the protection of his army. Only one problem: She must become his queen first. But every attempt he makes to tell her the truth is met with extreme hostility. "Vampires aren't real. That's crazy talk, Michael!" Clearly, the topic frightens her.
With time running out and her life on the line, Michael is left with one option: Marry her. Without her knowing.
Can he pull it off? And what will happen when the fight comes to their door?