Today, HJ is pleased to share with you

Sharon Sala's

new release: 

A Rainbow Above Us

What will it take to bring people together?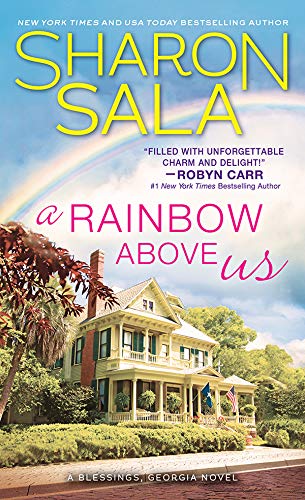 Hurricane Fanny left no one in Blessings, Georgia unscathed—including Rowan Harper, the only surviving member of her family. Rebuilding her life now seems almost impossible.
Bowie James comes back to help repair his grandmother's house, but he doesn't intend to stay long. He and his mother were forced out of Blessings a decade ago, and he's neither forgiven nor forgotten those responsible.
But Rowan is kindhearted, beautiful, and lost, and Bowie discovers that he can entrust her with his deepest secrets. If only their love could bring hope and healing to everyone around them, maybe they'd be willing to give it a chance…
Enjoy an exclusive excerpt from A Rainbow Above Us 
Later that afternoon, Junior was released on bail into the custody of his parents. It was a silent reunion and an equally silent exit as they left the station.
Mel was in the lobby, waiting to get his daddy and take him back to Granny's to get his car.
When Jud came out and saw his son instead of his wife, he frowned. "Where's your mother?"
"I don't know, Daddy. She put up the bail money and left. I'm taking you to get your car."
Jud retrieved his personal belongings and left the police station, leaving Mel to follow. The ride to Granny's was equally silent, and he got out without thanking his son, got in his car, and headed home. He had a world of talking to do to get off of Cora's hit list.
But when he drove into the yard, there were three suitcases sitting on the porch, along with his three hunting rifles, all of his hunting gear, and a large box.
Jud's gut knotted. She was serious.
He got out of the car with bravado he didn't feel and stomped up on the porch. He glanced down into the box, saw all of his shaving gear and the bottles of medicine he took, and grabbed the doorknob, only to find the door was locked.
He used his key, only to realize she had the chain on the door, too.
He began pounding on the door, shouting, "Cora May, open the damn door."
"No!" she shouted. "You get your stuff off my porch, and get off my property and out of my life. You will be hearing from my lawyer."
A shiver of fear ran up his back. This couldn't be happening.
"You don't have a lawyer," he yelled.
"I do now. Peanut Butterman is representing me."
He tried whining. "But Cora, honey! All these years of marriage? You're just gonna throw them away like they never mattered?"
"You threw our grandson away, and he mattered. You did it. Not me. You broke my heart, Jud Boone. I don't know you anymore. You turned into a monster…or maybe you were always a monster, and I just didn't know. Stay away from me. I don't ever want to look at your face again."
Jud flinched. Rage rose in him like a fire in his belly, and before he thought about what he was doing, he kicked in the door.
Cora was standing in the middle of the room, and it was obvious she'd been crying. Her eyes were puffy, and her face was blotchy red. She gasped when the chain broke, and then they were staring, face–to–face.
"What are you going to do? Beat me like you beat Randall's son? If you do, everyone will know it was you. That's why I talked to you in front of Chief Pittman. If you mess with Bowie and his family, or if you hurt me, you will be right back in jail. And if you're going to hurt me, then just finish the job and kill me, because I will not live one more hour under the same roof with you."
Jud was in shock. The sight of the fear on her face was enough to put him on his knees.
"I would never hurt you, honey. I swear."
"But you did, Jud. You broke something between us that will never be fixed. I won't love a man I can't trust. Either get out, or put an end to me now."
Jud kept shaking his head. "I can't believe you think I would do you physical harm. I have never raised a hand to you in my life."
"There are far worse pains than a physical blow. I'll say this one last time. Get. Out. Of. My. House."
Jud turned and lurched back out over the threshold. He heard the door lock behind him and then began carrying the suitcases to his car. It took several trips to get all of them in the car.
He drove all the way to Savannah, bought a fifth of whiskey, then headed to a motel to spend the night. He couldn't face his sons and admit Cora had kicked him out, and he didn't want anyone in town to know, either. Granted, they'd find out soon enough, but not yet.
The motel he stopped at was clean and decent enough, but it wasn't home. And as soon as he thought that, he knew nothing was ever going to be home again. He wanted to be pissed. But he had no recourse without serious consequences. If anything happened to Bowie James now, even if Jud had nothing to do with it, they'd come after him. He didn't know what to do next. Should he just cut his losses and leave Georgia, or did he dare go back and fight for Cora?
Then he remembered the shattered look on her face. He'd done a lot of things wrong in his life, and he'd always gotten away with them. Until now. It appeared that his luck had finally run out. He was old—-a man used to being in control—-yet somehow, he'd let a bastard and a woman get the best of him.
The irony did not escape him.
Bloody hell.
He crawled in bed with his whiskey and proceeded to drink himself unconscious.
Excerpt. ©Sharon Sala. Posted by arrangement with the publisher. All rights reserved.


Giveaway:

Print copy of A Rainbow Above Us by Sharon Sala.
To enter Giveaway: Please complete the Rafflecopter form and post a comment to this Q:

What did you think of the excerpt spotlighted here? Leave a comment with your thoughts on the book…
Meet the Author: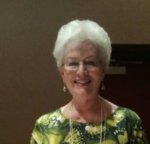 Sharon Sala is a long-time member of RWA, as well as a member of OKRWA. She has 115 books and novellas in print, published in six different genres – Romance, Young Adult, Western, Fiction, and Women's Fiction and Non-Fiction. First published in 1991, she's an eight-time RITA finalist, winner of the Janet Dailey Award, five-time Career Achievement winner from RT Magazine, five time winner of the National Reader's Choice Award, and five time winner of the Colorado Romance Writer's Award of Excellence, winner of the Heart of Excellence Award, as well as winner of the Booksellers Best Award. In 2011 she was named RWA's recipient of the Nora Roberts Lifetime Achievement Award. In 2017 Romance Writers of America presented her with the Centennial Award for recognition of her 100th published novel. Her books are New York Times, USA Today, and Publishers Weekly best-sellers. Writing changed her life, her world, and her fate. For book list, go to her website: www.sharonsala.net