In The Life She Wants by Robyn Carr, Emma Shay Compton and Riley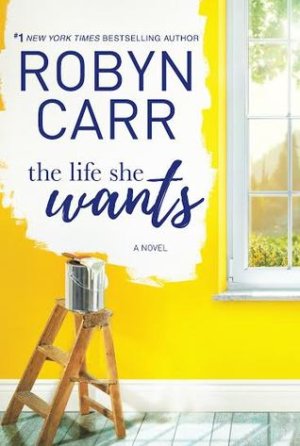 Kerrigan became best friends in elementary school and were inseparable until college. They swore that nothing would ever come between them. Especially not a guy. But a betrayal and a severe lack of communication sixteen years ago caused the young women to go their separate ways, leaving everyone around them scrambling to either choose sides or steer clear. As Emma finished college and made her way to New York City, Riley found herself starting a business from scratch and needing the help of her close family more than ever.
'Their history was so convoluted, so complex. From treasured childhood friends to bitter enemies, through a maze of anger, guilt, envy, pity.'
Emma thought she had found true love and the life of her dreams when she married successful businessman Richard Compton. But the extravagant lifestyle didn't last long after he was found to be part of a ponzi scheme, causing him to grow increasingly distant. Then Richard's suicide pushed Emma to make the choice to go home to California, but with no job on the horizon given her link to Richard, she may be out of options. Going to Riley for help is not something she thought she would ever do. Nor did she think she'd ever forgive her. But Emma's new life means taking control and being willing to let go of the past. If only Riley can come to the same conclusion.
"You should probably thank me," she said. "If you hadn't been so pissed off at me and scared to death, you probably never would have built such a successful company."
"Don't hang your hat on that idea," Riley said. "I had a good start on it before Jock messed up my plans."
And that actually made Emma smile at her. "You were so much better off without me. Who knows? If we'd remained friends, I might've convinced you to let Richard help you invest your money."
The Life She Wants was an emotion-fueled, dramatic story of friendship, betrayal, loss, and redemption. In the honest voice I've come to expect from Robyn Carr's writing, she made it clear how devastating it can be when two friends cut the ties between them. Not only to themselves, but to everyone around them as well.
'There was something about women and friendship that could run so deep, so personal, it was almost harder to say goodbye to a relationship like that than it was to break up with a man.'
Robyn Carr is definitely not afraid to touch upon serious topics and she always works them perfectly into a story to add depth and show a wide range of emotions from her characters. In this case, there were a few subjects that might be a trigger for some readers so be forewarned that she discussed suicide, infidelity, and physical, verbal and emotional abuse. I thought Carr did a great job weaving these themes into her character's lives and it made this a very realistic, compelling story to read. I loved how each person had something to overcome so we got to see their personal growth, which was quite inspiring.
I'll be honest that the first quarter or so of the book was a bit bumpy for me until I really got to see the background for each character. I grew to like and certainly empathize with just about everyone. Emma turned out to be a very giving, caring woman who had been through so much but she still held onto a bit of naivety that both helped and hindered her journey. I also grew to enjoy her childhood friend Adam, Riley's brother quite a bit, as well as his niece Maddie and his mother June. Jock took a bit of warming up to, but by the end I was even hoping he would find that HEA that had escaped him previously.
Now Riley. *sigh* I wanted to like her. I really did. She was a hard worker who pulled herself together after a tough childhood and made her way successfully into the business world. But her personality got to me a bit. She seemed so narcissistic, controlling, and blamed everyone else for what happened between her and Emma. I didn't get Riley's anger at her former BFF but maybe I was just choosing sides. By the end, I did see why she made some of the decisions she did when she was younger and she (somewhat) redeemed herself, earning her own HEA when it was all said and done. The wonderful epilogue, though, truly smoothed things out in the best way for all involved.
Equal parts heartbreaking and heartwarming, Robyn Carr's newest work of fiction mixed romance, personal journeys, and family tragedy to make this a completely captivating tale.
Book Info:

Publication: Expected publication: September 27th 2016 | MIRA |
#1 New York Times bestselling author Robyn Carr creates an emotional and uplifting ensemble of characters in this rags-to-riches-to-rags novel about women, friendship and the complex path to happiness
In the aftermath of her financier husband's suicide, Emma Shay Compton's dream life is shattered. Richard Compton stole his clients' life savings to fund a lavish life in New York City and, although she was never involved in the business, Emma bears the burden of her husband's crimes. She is left with nothing.
Only one friend stands by her, a friend she's known since high school, who encourages her to come home to Sonoma County. But starting over isn't easy, and Sonoma is full of unhappy memories, too. And people she'd rather not face, especially Riley Kerrigan.
Riley and Emma were like sisters—until Riley betrayed Emma, ending their friendship. Emma left town, planning to never look back. Now, trying to stand on her own two feet, Emma can't escape her husband's reputation and is forced to turn to the last person she thought she'd ever ask for help—her former best friend. It's an uneasy reunion as both women face the mistakes they've made over the years. Only if they find a way to forgive each other—and themselves—can each of them find the life she wants.