Hard to Fall by Marquita Valentine: Hayden just wants to live his life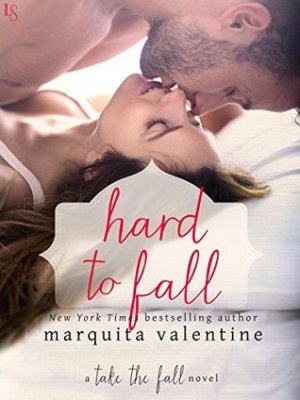 and not follow in the family tradition. He loves his job as a firefighter and has no ambition to follow in his father's footsteps in politics. He's smart, sexy, and happy to be single. He's not looking for a relationship, and definitely not looking to settle down as his mom pushes "suitable" matches.
Saylor has a soft spot for all animals. She knows what it's like to be pushed to the side and abandoned, so she's a champion for the adorable, and not-so-adorable, animals in her shelter. Saylor is delightfully quirky and has a deep and abiding love for all things Star Wars.
It just so happens that Hayden and Saylor meet as their respective best friends get married. Saylor doesn't expect anything to come of their flirting, but she's also not going to turn down an offer to spend more time with him in Mexico ahead of more wedding festivities.
"Workplace hazard. Comes with the territory of being the boss." He smiles again, and I swear my heart trips in my chest. "So about Mexico…want to go early with me?"
"Are you trying to hook up with me?" I ask.
He runs his thumb across his bottom lip, his angel blue eyes turning wicked. "Up to you, sweetheart."
After an amazing day and night together, Saylor is confused when Hayden seems to have no idea what happened between them. After returning home, she doesn't quite know how to react when Hayden decides to pursue her. It's a bit awkward to date your husband, when he doesn't know he's actually your husband. He's charming and thoughtful and they have amazing chemistry. And better yet, he seems to understand and see through her.
"This I'm the quirkiest woman in America act."
"It's not an act," she insists.
Except when it is. "It's adorable."
The pink hue that hadn't left her cheeks turns cherry red. "I'm not trying to be adorable."
Hard to Fall combines family, friendships, and politics into an endearing, fun, and hot package. Marquita Valentine created engaging and complicated characters in Saylor, Hayden, Evangeline, and Hunter. Ms. Valentine provided a good mix of romance, family drama, angst, and heat with plenty of banter. Fans of Annie Kelly, Shiloh Walker, and Elizabeth Hayley will enjoy Hard to Fall.

Book Info:

Publication: October 18th 2016 | Loveswept | Take the Fall #4
Wedding bells are ringing—and tempers are flaring—as the Take the Fall series continues in this sweet, sexy novel from the bestselling author of After We Fall ("This beautiful story kept me transfixed until the very end."—Krista Lakes).
As a hardworking, hard-partying firefighter, Hayden Walker values his career and his freedom. But as the eldest son of a U.S. senator, he agreed long ago to follow in his father's footsteps and run for office, and that means settling down and marrying the picture-perfect wife. Hayden just isn't ready for that sort of commitment . . . not with women like beautiful, curvy Saylor Dean—the naughty bridesmaid he recognizes the morning after his buddy's wedding—tempting Hayden to stay single forever.
The unwanted love child of a well-known politician, Saylor has always felt isolated and alone, her only solace the animal shelter she runs in Forrestville. Then she meets Hayden at her best friend's wedding. During their impulsive and unforgettable night together, Saylor feels desired like never before—only to wake up and find that Hayden doesn't remember his drunken proposal, or their hasty marriage, or her. But when the truth comes out, Saylor finds it's a lot harder to fall out of love than in love.