The List (Irresistible #3) by Anne Calhoun: Daniel is a dedicated FBI agent who loves to run marathons and solve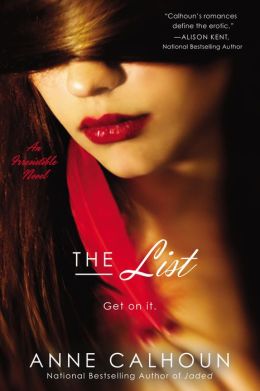 puzzles. He comes from a loving and close-knit family. His life changes when he sees a beautiful woman sitting on the ledge of a terrace during a party.
Tilda runs a high end stationary store with the dream of expanding her brand. Her passion is managing her list. Tilda has many and varied connections, which she uses to connect the people on her list who are searching for the same things.
When they meet, they experience an instant connection. Daniel joins the thrill-seeking Tilda on the ledge and a mistaken assumption leads to Tilda revealing the process to get on her list. Tilda comes across as being quintessentially British with her icy reserve and a preference to keep people at a distance. Daniel resorts to an unusual tactic when his first attempt meets with Tilda's firm denial.
"You've been texting the wrong woman."
He didn't even look at the screen, just kept his gaze on her. "No, I haven't," he said. "The old-fashioned method of asking you out didn't work. I took a different tack."
Tilda doesn't date and she's not interested in a committed relationship, but she knows that she wants Daniel. He peaks her interest in a way that no one has before, in large part because he's so unexpected. Daniel doesn't always do what she expects.
"You're an odd one," she said.
He just lifted his eyebrows and grinned. "Wouldn't want you to get bored. I know how you feel about being bored."
"I know how you feel about being bored," she scoffed.
"I'm never bored with you," he said quietly.
They have combustible chemistry, but their relationship feels uneven. It's clear that Daniel is in love with Tilda, but she's much more reserved and keeps herself closed off. As a result of her upbringing, she needs and wants Daniel while simultaneously believing their relationship could never work long-term. I loved how Daniel supported Tilda while she's on the brink of a huge deal that would achieve her dreams.
The List is a unique storytelling experience of how opposites exploded together in a whirlwind and then deciding if they should fight for what they need. Anne Calhoun created a sexy and endearing hero in Daniel whose relentless desire to understand the mysterious Tilda and perseverance will win your heart. Ms. Calhoun also created a rich, complex, and flawed character in Tilda who was just as mysterious to the reader. Fans of Megan Hart would enjoy The List.
Book Info:

Published March 3rd 2015 by Berkley | (Irresistible #3)
Matchmaker and stationery shop owner Matilda Davies brings people together. For those on her list, Tilda will find the man or woman of their dreams—whether it's for an hour or a lifetime. But due to a painful past, the British expat has never put her own name on the list. Instead, she limits herself to emotionless and commitment-free hookups. Then she meets Daniel, who wants not just her body, but also her heart…
Daniel Logan hides the soul of a poet under the suit and tie of an FBI agent. Specializing in financial crimes, he pieces together stories of greed and ensures justice is done. He plays by the rules—until he meets Tilda. He's drawn in by her passion as well as her mysteriousness. Daniel knows that no matter her secrets, he's the perfect match for Tilda. But even pleasure doesn't come with a guarantee…