In Slow and Steady Rush (Falcon Football #1) by Laura Trentham, Librarian Darcy Wilde had no plans to ever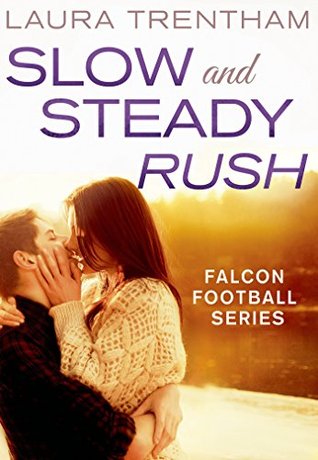 go back to her hometown of Falcon, Alabama since moving to Atlanta. Well, other than the occasional visit to see her grandmother and cousin. But everything changes when Darcy finds herself back in Falcon taking care of the woman who raised her. Ada might be on the mend, but Darcy's encounters with their new neighbor, and the town's new football coach, Robbie Dalton threatens to tear her heart into pieces. The closed off hunk sparks something wild in her that she never expected. But can they keep it platonic or will it overtake Darcy's good intentions?
"You're going to be gone in a few months, sweetheart. How about we keep this fun? We'll go our separate ways at the end of your leave, no hard feelings. Can you do that?"

"Can you?" she shot back.

"Of course." The lie tore from his chest.
Falcon is the first place that has ever really felt like a home to Robbie Dalton. Growing up in foster care only taught him to be wary of people and filled him with rage. Football and years as an Army Ranger helped channel that anger, along with the comforting effect his dog Avery has on him. But now Robbie is dealing with emotions he's never experienced before when a miscommunication throws himself and Darcy into a few dates together. Surely what he's noticing is only lust, right? Or for the first time in his life, could this feeling be love?
'Did she want him to kiss her? Surely, he hadn't lost all ability to read women. Although, this woman was written in a different language. One he wanted to study and learn–like Braille.'
Slow and Steady Rush was a wonderful surprise. Debut author Laura Trentham has given us a Southern romance full of complex relationships and small town drama that held me enthralled the entire time.
I love it when a story is more than it appears. Having read the synopsis, I knew this would be set in a small town and focus around the new football coach. But there were so many extra parts to this novel and tons of secondary characters who more than held their own. Most of all it felt like the storyline and the way the characters handled all of the situations were realistic. Nothing really seemed over the top or unnecessarily melodramatic. Just honest, heartfelt pain, turmoil, and passion.
Now, as much as I loved the secondary characters like Darcy's cousin Logan, her grandmother Ada, Tyler, Miles and the rest of the football team, Robbie and Darcy were a pretty unique and interesting pair themselves. Together, they were basically the reformed bad boy and the sweet librarian. However, their backgrounds held both similarities and large disparities, which meant they understood where they each were coming from, but handled things quite differently. Robbie felt the effects of growing up in foster care and didn't believe someone so good and nice as Darcy could want him. And she thought being a 'mousy librarian' would be boring to him. Boy were they both wrong, considering their chemistry was off the charts!!
And I can't neglect to mention a special character: Robbie's partner/dog/best friend Avery, who served with him in Afghanistan and who was also a lovely part of the story. I dare you to not fall for this brave & furry three-legged guy who conveyed so much emotion and compassion with his little woofs and facial expressions. My heart just melted every scene he was in!
If you enjoy rock solid emotional romance, definitely check out Slow and Steady Rush. What a great beginning to this new Falcon Football series.
Book Info:

Published March 10th 2015 by St. Martin's Paperbacks | (Falcon Football #1)
She lives by the book—and is still searching for her happily ever after. Darcy Wilde has tried hard not to live up to her last name. As a librarian in Atlanta she lives a fine life far away from the football-obsessed town of her childhood. But when her beloved Grandmother needs help, Darcy takes a leave of absence and heads back to the home and past she left behind. He knows how to play the field—and is in no rush to settle down. Robbie Dalton knows a thing or two about painful pasts. After bouncing around in foster care and the Army for years he is finally ready to move on and make a home for himself in Falcon, Alabama as the newest high school football coach. Sparks fly when the sexy new coach and the sharp-tongued librarian meet, but neither of them is looking to make ties. But when it comes to love, sometimes you've gotta throw away the rule book to cross the finish line… Everything changes when Darcy falls in love, not only with the gruff, protective, and smoking hot man who's sharing her days and nights, but also with the complex tapestry of people who weave Falcon together. Could this be where she belongs – and who she belongs with?