The Little Matchmaker (Top Dog Dude Ranch #4) by Catherine Mann : Micah Fuller is now in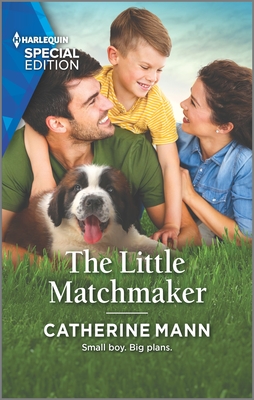 charge of his nephew, Benji. Although he doesn't have any experience, he's committed to be the best parent Benji needs. Enter the school's Library, Susanna Levine. She's worried about the boy's reading and learning problems. Since Micah doesn't answers her messages, she decides to talk to him personally. Of course, sparks fly between them from the beginning. Suddenly, as they work to improve Benji's learning skills, Susanna becomes Benji's tutor.
In the meantime, chemistry grows with each second Micah and Susanna spend together, but she doesn't want anything with Micah. First of all, he's Benji's father—which makes Micah off limits—and, secondly, he'll be in Moonlight Ridge temporarily, as his contractor work demands moving from site to site. But what will happen when Benji starts matchmaking?
This story is so cute it hurts. Micah knows he's the only option Benji has to have stability in his life. He's a bit angry with his brother and his sister-in-law for their negligence with the boy. Not to mention his issues with his parents not only for the way they dealt with Benji, precisely. As a new parent, he's overwhelmed with the responsibility, but he would do everything in his power to not let the boy down. He also knows having a relationship with Susanna will makes things complicated, especially since his work keeps them moving from locations. On her part, Sussana wants to grow roots on Moonlight Ridge. To do that, she had to stay away from distractions in the shape of a certain gorgeous new parent and his charming future adoptive son. Against every reasons of why they shouldn't be together, both Micah and Sussana get more close with each interaction. Their chemistry is simply fantastic and cute.
Even though Micah and Susanna's romance is the center of the story, is Benji who steals the show. This boy is really adorable, charming and lovable. And the fact we can see his POV in this book is a clever move. I loved all secondary characters—especially Holly and Jacob and their adoptive kids—but Benji is off the charts. His struggles with learning although he's pretty smart and how he deals with his childhood problems is so touching that I want to adopt him…
This fourth installment of the Top Dog Dude Ranch series is really remarkable thanks to a smart writing, a credible argument and, most importantly, a magnificent research work. Did I said Benji is the most ADORABLE thing in the world yet?
Book Info:
Aisha| 4 Stars | Nope! | No |
Publication: May 24, 2022 | Harlequin Special Edition | Top Dog Dude Ranch #4
Little. Mighty. Matchmaker.
Working at the Top Dog Dude Ranch is ideal for contractor Micah Fuller as he learns to adjust to being the legal guardian for his little nephew. But school librarian Susanna Levine's insistence that young Benji needs help reading has Micah overwhelmed. Hiring Susanna as Benji's tutor seems perfect…until Benji starts matchmaking. Micah would give his nephew anything, even a puppy. But getting himself a wife? A tricky feat considering Susanna is adamant about keeping their relationship strictly business.
From Harlequin Special Edition: Believe in love. Overcome obstacles. Find happiness.
Top Dog Dude Ranch
Book 1: Last-Chance Marriage Rescue
Book 2: The Cowboy's Christmas Retreat
Book 3: Last Chance on Moonlight Ridge
Book 4: The Little Matchmaker
Book 5: The Cowgirl and the Country M.D.