Nothing But The Truth by Holly James: After being stood up by her boyfriend Caleb on her birthday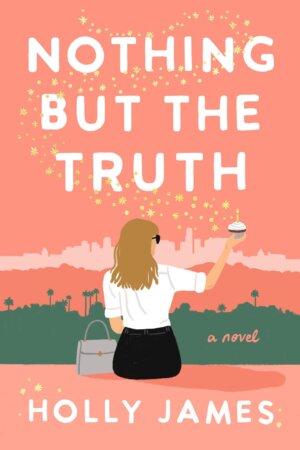 eve, a man who she believes to be her future husband, Lucy is provided a pity drink by a hot bartender who observes she's not interested in her martini nor engaged terribly with the world.
Wishing for the perfect 30th birthday, Lucy wakes up and has back-to-back revelations about her life – how much time high maintenance thieves from her life, how awful spin classes are, and how breakfast bagels kick all sorts of butt comparatively to calorie counting yogurt.
Throwing caution to the wind, Lucy also dresses comfortably for work, a bit of a risky decision given the profile of her Publicist Company J&Js and the dress code mandated. Feeling liberated for the first time in her 3 decades, Lucy also experiences the dichotomy of self-doubt, and it isn't until her letchy boss Jonathon propositions her and she unequivocally rejects his advances that she realises something else is lurking under the surface of her courage.
In fact, it is clear she can't lie, and when her and best colleague buddy Oliver unpack her physical inability to be dishonest, Lucy realises that not only does her entire career and potential promotion require significant omissions and untruths, but sadly, she's been lying to herself for most of her life.
Snappy, sharp and current, Nothing But The Truth explores the ongoing patriarchal oppressions that pervade all aspect of life and unpacks the potential ramifications of demanding a fairer, safer and equitable way of living. As Lucy is forced to deal with the fallout of her bravery, she doesn't lose sight of her motivations – to be honest, to call it for what it is and to hope like hell that her actions will make a difference. As one disaster leads into another, Lucy's whirlwind 24 hours is life-changing for the better. And whilst it wasn't the brand of perfect she was initially wishing for, the outcome exceeds her expectations and delivers some incredible gifts.
Moreover, her super meet-cute encounter with hot bar tender Adam seems to be the pivotal catalyst for wholesale change. And despite not really getting to unpack him in any real depth, his ongoing cameo's were definitely heart-warmers. From start to finish, this was a fire-cracker – relevant, comical and undeniably entertaining and definitely recommended for those who like some politics in their romance.
Book Info:

Publication: 12th July 2022 | Dutton |
It's the eve of Hollywood publicist Lucy Green's thirtieth birthday, a day she hopes will bring the promotion she deserves and a proposal from her boyfriend. But he stands her up for a date, not for the first time, leaving Lucy alone at the bar—or at least, alone with the handsome bartender on the other side of the counter—so she makes a rueful wish over her cocktail for a perfect birthday. But when Lucy's wish is granted in the most unexpected way, things go terribly awry, as things often do when wishes come true….
When Lucy wakes up on her big day, she can't seem to force herself to go through her rigorous fitness and beauty routines—things she usually tells herself she likes. She has no desire to eat only a spoonful of yogurt for breakfast and she simply can't bear to put on the uncomfortable shapewear needed for the power outfit she had planned for work.
When Lucy arrives at the office, she realizes that not only can she no longer lie to herself, she can't lie to anyone else, either. Not her clients, not her boyfriend, not her creep of a boss. Now that she can't hide how she feels, Lucy must confront all the injustices—small and large—she's faced on a daily basis at work, in her relationship, and in every other aspect of her life…and the truth is going to come out in a big way.