The Picture Perfect Wedding by Fiona Lowe: Ok ladies! If you are looking for a great feel good read then do I have the book for you. The Picture Perfect Wedding by Fiona Lowe had me hooked from the first page and kept me hooked until the last.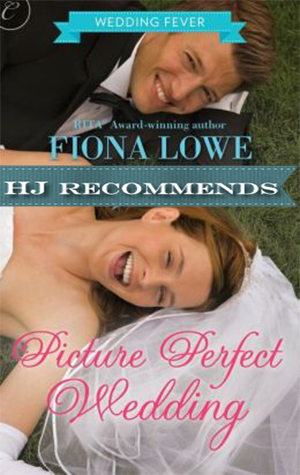 Welcome to Whitetail to Wisconson the town know for Weddings with WOW. This little town is in the middle of no where with nothing but farms, cows, corn, and the most beautiful sunflower field that you could ever imagine. Enter Erin Davis, wedding photographer, looking to use the sunflower field for a bat-crazy bride and her chance to win the Memory Award (Memmy as the pros call it) and make her mark in the photo world. There is only one little problem, enter tall, sexy, grumpy Luke Anderson, owner of said field and the one man standing in the way of the perfect picture. Luke doesn't want any wedding interruptions and Bridezilla's running around on his farm, but finally caving to the sexy city girl. Now with the wedding drawing closer, the bride acting even crazier than ever, and sparks flying between Erin and Luke, will Erin get her Perfect Picture, or will she get more than she ever imagined?
Luke and Erin had me laughing from the first page of this book. I love love loved these characters! They are both very strong in their conviction that neither has time in their lives for love, romance and relationships. But a summer fling is something that they can both agree on. Their backgrounds are so totally different, she grew up without stability, learning at an early age that the only person she could ever count on for security is herself, he grew up on a 6 generation family farm, surrounded by love, family and a legacy. Neither of them expected more than a summer of fun, but what they found together was so much better than they could ever hope for.
There is a side story with a widowed single mom, Nicole and her young son Max, and a HOT, sexy fire cheif Tony, that only added to the fun and lightheartedness of this book. Being that this is the second book in the Wedding Fever series, I did not feel like I missed out on anything because I did not get to read the first book. I will however be going back to read book 1 becasue Fiona Lowe is an author that I will be following. I would highly recommend this book to anyone that loves a fun, cheeky, feel good book.
Book Info:

HJ Recommends
Published August 12th 2013 by Carina Press | Series: Wedding Fever #2
Book two of Wedding Fever Trilogy
Erin Davis will do whatever it takes to be the photographer for high-end brides. So what if capturing the moments of people's lives means she has no time for her own. Nothing will get between her and the security she craves, not even the gorgeous farmer refusing to let her shoot in his sunflowers.
His family has always been tied to the land, but lately Luke Anderson feels more like he's chained. While he ponders his future, he still has cows to milk and no time to deal with Erin or Bridezillas in his fields. Yet there's something about the sexy city girl he can't say no to. So he says yes: just this once.
With the town in need of a photographer, Erin agrees to spend wedding season in Whitetail. The sparks flying between her and Luke quickly ignite, but just as Erin starts to picture her own happy ending, Luke takes a gamble that could risk it all…
For more weddings in Whitetail, check out Saved By The Bride.