In The Look-Alike Bride by Kathryn Brocato, Leonie Daniel is a high school Physical Education teacher. She loves her job, but unfortunately she is out of a job at the moment and has to budget to make rent until she gets another job.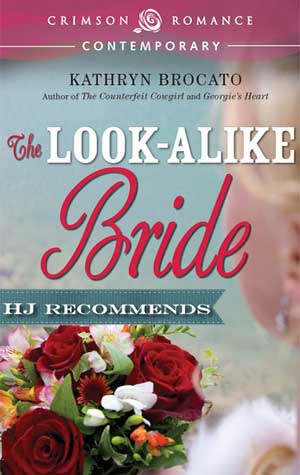 Leonie considers herself the less attractive of the Daniel sisters, compared to her older sister Zara. They may be very similar but she knows that for a fact because every time she is dating someone, as soon as they meet her sister they drop her. Zara is a bombshell, dresses to kill with designer clothes and works as a government agent, which in a way would explain why they all prefer her to comfortable Leonie.
Only in away Leonie lives a double life, for when her sister is on some kind of top-secret mission Leonie sometimes needs to pretend to be Zara. They used to do it back in school but now Leonie wants to live her own life her way. Only with the loss of her life she needs the money they will pay her for what could technically be considered a vacation. All she needs to do is go live in her sister's lakeside cabin in Arkansas for a month. She has to act like Zara, dress like her and basically impersonate her. But the most important thing of all, she must keep her distance and avoid Adam Silverthorne, the man that her sister is interested in and could very likely discover her.
When Adam sees Zara is at the lakehouse he worries that he will have to take actions to avoid her as usual. But this time she acts different, she is not chasing him or being her usual self. Not only that she has a dog that she doesn't separate from and that is nothing like what Zara would like. His interest is now piqued and he soon finds himself chasing and following her.
Soon he discovers that things are not what they seem, and this girl is definitely not Zara. With a little digging he finds out who she really is but not why she is there. The irony is that her sister is always following him and annoying him, but Leonie has charmed him and he is the one doing the chasing this time and he will not stop until he gets close to her.
But things are not as peaceful as they seem, and when Leonie begins to fear that someone is following her and spying on her things will take a different course. Now Adam will do his best to protect the woman that he is falling for and make sure that nothing happens to her. He will not leave her side until he finds out what is really going.
The Look-Alike Bride is a really fun read. At the beginning when Leonie seems to be talking to what I thought was a stalker I thought she was nuts, but when I realized that is was a dog and she went out of her way to feed him even though she didn't have that much money to spare, well that made me like her a lot. Even if I didn't like that she was a pushover for Zara and always saw herself as less attractive than her. And what can I say about Adam but wow. He is handsome, used to be a government agent, is a smart man and an expert in security. Him being there looking after Leonie and baking cookies for her (even if they are store bought and he burned a few batches) just makes me want one for myself. The romance between them is sweet and it made me keep cheering for them to have their HEA, even though Leonie though it would be just a fling while she looked like her sister that would probably continue with her sister in her place when she returned.
For a book full of fun, adventure and entertainment, don't miss The Look-Alike Bride by Kathryn Brocato.
Book Info:

December 16th 2013 by Crimson Romance
Quiet, animal loving Leonie Daniel, a high school Physical Education teacher, leads a double life, often standing in for her glamorous older sister, Zara, who works as a government agent. All Leonie has to do this time is spend a few weeks in Zara's lakeside cabin near Hot Springs, Arkansas, behave like Zara and avoid Adam Silverthorne, the man her sister is interested in.
Alas, Adam is immune to the beautiful Zara, but he finds Leonie enchanting. Adam discovers she is Zara's younger sister almost immediately, but in order to woo her, he pretends to believe that Leonie is Zara. Leonie is equally attracted to Adam,but she is certain that Adam would never prefer her over her dashing, outgoing older sister. Worse, some spies are shadowing her every move in the belief that she is Zara.
Adam makes no secret of his attraction, and Leonie sees nothing but heartache ahead, yet she is drawn to Adam in spite of herself. She decides a vacation affair will give them both what they want, and it will end when the vacation ends, with no hard feelings or recriminations. Or will it?