The Love Con by Seressia Glass: When Kenya finds out that she is a finalist on her cosplay reality show,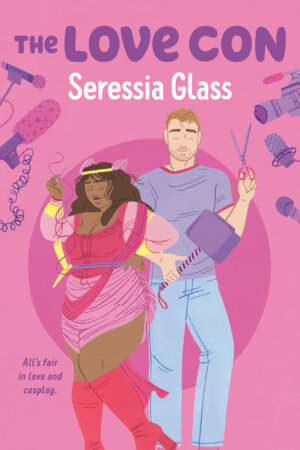 she is on cloud nine. When she finds out that she needs a partner for the final challenge, she blurts out the only name who will have the skills and expertise necessary to help: her best friend/roommate, Cameron. Best friends since high school, they have been through everything together including breakups, businesses, and loss. Cameron owns the fabrication studio where Kenya is also a minor owner and in charge of HR so he is her only choice. The last thing she was expecting to do was say they were a couple though.
When Cam hears Kenya's choice of him, his wheels start turning on his plan of many years to win her over. He has to convince her that they are perfect together in more ways than just the "fake-dating" way Kenya has planned. Between conniving producers, jealous exes, and parental drama, Kenya and Cam have their work cut out for them. They have to decide if it's finally time for them to take the next step or if they wouldn't be able to recover from that decision.
Kenya is such a strong female character. I applaud her for always choosing the high road even when dealing with the judges, the ever-present production team, and Cam's ex. She goes through a lot of change in the book and you can definitely see a difference in the way she looks at herself internally from the start of the book, because even though she comes across as completely in control at the start, she has doubts that creep their way in.
Cameron is the perfect partner for Kenya. The way he lifts her up is what women should strive to find. He has relied on Kenya a lot since their friendship started, and he has to show everyone that they are more than just the friends they were. The main person he has to convince is Kenya and he tries to do so but showing her that he understand her wants and needs more than anyone. His attempts are beautifully done and you can't help but hope he does enough.
The sexual tension between Cam and Kenya is electric. Ever since their first reunion in the airport, you can feel their steam coming off the pages. Having both of their internal monologues fighting their feelings is the cutest and you can't help but root for them the entire way. They sneaked kisses to show they are a couple are something that they treasure which is precious.
Overall the book was written elegantly and shows the reader how to overcome conflict and fight for what you want. It is definitely a must read for anyone who loves a happily ever after with a side of nerdiness.
Book Info:

Publication: December 14, 2021 | Berkley Books |
He's cosplaying as her boyfriend but their feelings for each other are real in this romantic comedy from Seressia Glass.
Sometimes Kenya Davenport believes she was switched at the hospital–how else could a lover of anime, gaming, and cosplay come from STEM parents? Still, Kenya dreams of being able to turn her creative hobby into a career. She finally has a chance to make it big when she joins the reality show competition Cosplay or No Way.
There's just one catch: the challenge for the final round is all about iconic pairs, and the judges want the contestants' significant others to participate. Unfortunately, Kenya is as single as can be at the moment. Luckily her best friend, Cameron Lassiter, agrees to be her fake boyfriend for the show.
Roleplaying a couple in love will force them to explore what they're hiding under the mask of friendship. Can Kenya and Cam fake it until she makes it, or will she be real about her feelings, knowing it could cost her the best friend she's ever had?