In The Christmas Wedding Guest  author Susan Mallery has two couples to whisk away to a Happily Ever After.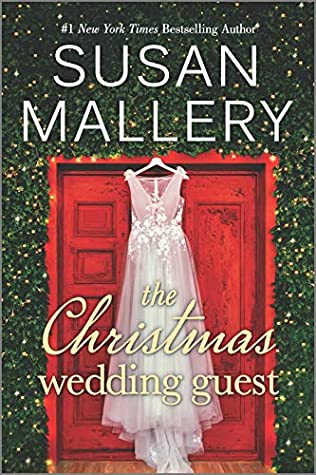 Reggie Somerville is only back home in Wishing Tree, Washington for the time between Thanksgiving and New Year's Day to help her mother with her Christmas wedding plans. Reggie's parents eloped thirty-five years ago and now want to renew their vows and have a celebratory reception. Upon arriving back in Wishing Tree Reggie discovers her high school sweetheart Toby Newkirk, who broke Reggie's heart, is back living in town with his eight-year-old son. Toby's hung up on avoiding relationships to protect his son, Harrison. Toby will never put Harrison at risk ever again. But Toby finds spending time with Reggie again a challenge to this conviction.
Meanwhile Reggie's sister Dena Somerville has given up on finding "the One" but wants a family so she turns to artificial insemination and rejoices at her pregnancy. Not so much at the morning sickness that lasts all day. In addition to teaching third grade at the local elementary school Dena owns the local B&B, Wishing Tree B&B. One of the guests staying at the B&B for the Thanksgiving and Christmas holidays is one hot, handsome guy. Turns out this guest is rock star/songwriter Micah Ruiz. Dena finds Micah to be kind, caring and attentive. But he's only in town for a short time. Isn't he? Micah Ruiz left LA for Wishing Tree where his friend and former band drummer and his family live to hopefully find inspiration to end his writing slump. Micah lost his wife and unborn son in a car accident a year ago and is struggling to come back from the pain and sorrow. Dena has become an inspiration.
This book is a truly wonderful Christmas romance. Not only do two lovely couples get their HEA but the path to that is strewn with tons of Christmas fun. Wishing Tree is known as a special Christmas town. No Christmas decorations appear before Thanksgiving but the next day the town explodes with Christmas decorations. But no snowmen. The town puts them out on the first snow day which isn't official until it snows for 15 minutes straight and coats the ground. There's also Advent Calendar Day with a box opened every day until Christmas with suggestions for community service, caroling parties and lots of other fun.
Anyone looking for a Christmas romance with lots of Christmas spirit needs look no further then The Christmas Wedding Guest.
Book Info:

Publication: September 28th 2021 | HQN Books | Wishing Tree #1
"This two-in-one romance starts a new series that Mallery's many fans will devour like a Christmas cookie."—Booklist
Susan Mallery, author of the Fool's Gold romances, cheerfully invites you to Wishing Tree, where Christmas comes to life…
The Somerville sisters believe in love, but they've lost faith it will happen for them. Reggie hasn't been home since the end of the world's shortest engagement. When her parents decide to renew their vows, she buffs up her twinkle to help with the Christmas wedding. Unexpectedly, Toby, her first love, is back too, and the spark between them shines as brightly as ever. In the spirit of the season, will they let go of past hurts and greet the New Year together?
Done waiting for the one, Dena is pregnant and on her own—on purpose. But then a gorgeous, sad-eyed songwriter checks in to a room at her inn. Micah, unable to write since he lost his wife, finds inspiration in Dena's determination to be a mom. One snowflake-speckled kiss and he's a goner. But Dena is afraid to believe that a rock star could fall for a cookie-cutter small-town girl like her.
As the Christmas wedding draws closer, these two sisters just might unwrap the most treasured gift of all—love.