In The Love We Keep (Summer Island #3) by Toni Blake, Summer Island has become more than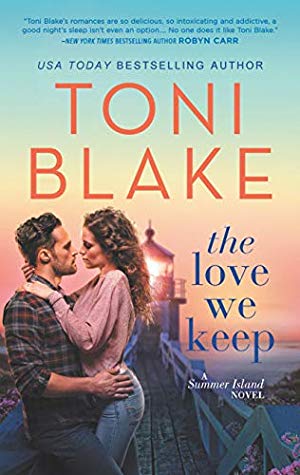 just Suzanne Quinlan's home: it's her safe place, where she's finally begun to heal after losing her husband several years ago. Normally her flower shop keeps her busy, but with winter bearing down on the island, Suzanne is snuggled in her cottage most days. Which is handy since she's still embarrassed after a recent attempt at dating. When her best friend Meg's ex-boyfriend, Zack Sheppard, takes a nasty tumble, badly hurting his leg, Suzanne can't believe she finds herself as his caretaker. Never mind that she used to be a nurse. She's never had many good interactions with the grumpy fisherman. But oh how things change when Suzanne and Zack are forced to spend all their time together while he's on the mend.
"Damn it, woman, are you trying to kill me?"
"You know this is for your own good, and I've told you dozens of times–stimulating the muscles can only help."
"If you want to stimulate my muscles, Suzie Q," he said, narrowing his gaze on her, "I can think of ways to do it that are a hell of a lot more fun."
Zack can't believe that one minute he was walking down his (icy) steps, and the next thing he knows, he's recuperating at Suzanne's house, stuck inside for the foreseeable future. As a man who has been known to take off on his fishing boat at the drop of a hat, being cooped up in the cottage is a nightmare. As are the exercises Suzanne pushes Zack to do daily. He hates to admit that they really are helping his leg–as well as how much he appreciates all she's doing to help him recover. But what surprises him most is how drawn to Suzanne Zack is. Not sure if it's the close proximity or genuine attraction, he's going to have to careful. The last thing he'd want to do is break her heart. But he's not really a long-term relationship kind of guy. Or could he be, for Suzanne?
'And…damn if Suzanne's kiss hadn't turned him inside out. Part of him didn't want to admit that was part of the big, stupid grin stretched across his face, but it was. And maybe that was okay. Maybe it wasn't something to run from.'
The Love We Keep was a bittersweet novel about the unpredictability of life, love and friendship, and how good can still flourish even after heartbreaking changes have happened.
"When love finds you, keep it. Hold on to it. Cherish it. Because I fear in the end we will find that love is all there is, all that counts for anything."
Toni Blake has done a fabulous job with this Summer Island series, creating a community and a ragtag bunch of residents who seem so real that they nearly leap off the pages. I think this particular story might be a tough one for those who have been following these flawed but lovely characters since book one. And I say it will be tough not only because of Suzanne and Zack's unexpected connection, but due to learning about their harrowing pasts–and because of one of the local's health issue. *sob* But through all the heaviness everyone faced here, Blake also expertly sprinkled in some wonderfully touching and even some joyous moments that will provide laughter and smiles.
The Love We Keep can be read as a standalone but I truly think readers would get much more out of the experience if they've read the previous two books so Suzanne and Zack's journey will make the biggest impact. I honestly wasn't sure if I could see them as a good fit when this story began. But Blake convinced me, no doubt about that. Even though I know some readers will get caught up in Suzanne "breaking the girlfriend code" by going out with her best friend's ex, I was more worried about how she seemed to be…lost, and tangled up emotionally. And I wondered if Zack would be a flight risk once his leg injury got better. (There was a twist to his injury, as well, that will surprise you.) It all worked out in the end the way I think it was meant to be, but it was one long, twisting and turning path for Zack, Suzanne, and even Meg and Seth, to get there.
Poignant, emotionally driven, and achingly honest, The Love We Keep tore my heart to pieces (a few times), had me ugly crying at one point, but ultimately reinforced my belief that love wins. Every time.
Book Info:

Publication: January 28th 2020 | HQN Books | Summer Island #3
Toni Blake returns with the most emotional, tender novel yet in her enchanting Summer Island series.
Suzanne Quinlan has been through a lot lately, so nothing sounds better than a peaceful winter in her cozy cottage on Summer Island. The last thing she wants is a massive lifestyle adjustment—especially when it comes in the form of an injured Zack Sheppard, who is sullen, angry and completely dependent on her.
Zack values his independence above all else. But when he falls down his icy steps, he finds himself with a serious leg injury and in need of round-the-clock care. The only person available to help is his ex's best friend, Suzanne. It doesn't hurt that Suzanne is far more attractive than he ever realized, but he's never been one to settle, and he sure isn't going to start now.
As Suzanne and Zack grow closer, they both realize they're in this thing more deeply than they ever thought, and it's started to cause tension in their small, close-knit community, too. Will Zack be able to commit this time, and will Suzanne be able to trust him? One thing is certain: come spring, the lives and loves of Summer Island will never be the same.