The Make-Up Test by Jenny L. Howe: Allison Avery has worked very hard to get where she is in life.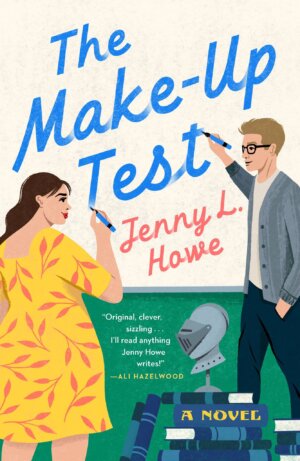 Going against her father's beliefs, she is pursuing a degree in higher education to become a professor. When she has the chance to study under her mentor, she throws herself into the job. However, she is in for a surprise when she finds her ex in the same program as her and fighting for the same position. Not only is Colin her ex, but he also stole what should've been her biggest accomplishment in her undergraduate degree from her.
Colin Benjamin has never stopped loving Allison Avery. Even when she shut him out, he never lost his feelings for her. As he spends the time with her, he wants more than anything to be open about everything that happened in their past, but he can never find the right time. When everything is on the line for him, he has to choose what's more important: winning or Allison.
When the two find out that they will spend the first couple of months vying for a single spot as a mentee which includes a trip to Europe, it ignites the competitive streak between the two of them. As they try to outdo each other, they find feelings still remain under the surface and just need a little nudge to reappear. As they rekindle their spark, Allison has to learn to trust Colin again and Colin has to learn to be open with her, but as they work through their past problems, will the current competition cause them to come crashing down?
Allison deals with a lot of stressors in her life. Her dad doesn't believe in her dreams and tears her down for her figure, her mom pushes her to grow closer with her dad each time they talk, and she was completely and utterly betrayed by Colin in her past. She closes herself off when she's hurting, but she has to learn how to get past those feelings when it comes to Colin in order to find success in her career. Colin is the only person that she feels comfortable with telling some of the important things in her life, but she doesn't know whether she can actually trust him. As she comes to terms with trusting him, she finds herself hitting another obstacle, but it's up to her whether she gives in to her feelings or not.
Colin hides a lot from the world by being the person he is. He hides that fact that he actually struggles to live up to expectations and only wants to be worthy of Allison. He also hides his true intentions for his previous actions. As much as he wants to be truthful with Allison, he's nervous about how she will perceive him after. He has to come to terms with being okay with himself and understand what he wants to focus on in the long run to be happy.
The entire book overall was filled with lots of love and lots of grief. The two characters deal with grief in each of their lives in their own way, but they help each other through it. The thing I loved most about the book was being able to look at the measurable growth from beginning to end for both characters. Allison and Colin are both characters that you root for and want to see be successful in their endeavors. I loved the competition between the two of them and how they handled interacting with each other throughout the entire story. Definitely a very cute read.
Book Info:

Publication: September 13, 2022 | St. Martin's Griffin |
ONE TO WATCH meets BEACH READ in this smart, swoony, romantic comedy, in which two college exes find themselves battling against each other—and their unresolved feelings—for a spot in a prestigious literature Ph.D. program.
Allison Avery loves to win. After acing every academic challenge she's come up against, she's finally been accepted into her dream Ph.D. program at Claymore University, studying medieval literature under a professor she's admired for years. Sure, grad school isn't easy—the classes are intense, her best friend is drifting away, and her students would rather pull all-nighters than discuss The Knight's Tale—but she's got this. Until she discovers her ex-boyfriend has also been accepted. Colin Benjamin might be the only person who loves winning more than Allison does, and when they're both assigned to TA for the same professor, the game is on.
What starts as a personal battle of wits (and lit) turns into all-out war when their professor announces a career-changing research trip opportunity—with one spot to fill. Competing with Colin is as natural as breathing, and after he shattered her heart two years ago, Allison refuses to let him come out on top. But when a family emergency and a late night road trip—plus a very sexy game of Scrabble—throw them together for a weekend, she starts to wonder if they could be stronger on the same team. And if they fall for each other all over again, Allison will have to choose between a once-in-a-lifetime opportunity and what could be a twice-in-a-lifetime love.
Charmingly bookish and unequivocally fat positive, The Make-Up Test embraces the truth that people can sometimes change and grow, even when you least expect it.