Today it is my pleasure to Welcome author
Kilby Blades
to HJ!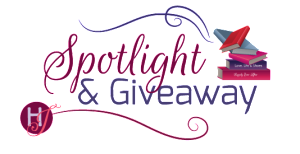 Hi Kilby and welcome to HJ! We're so excited to chat with you about your new release, Looks Good on Paper!

Hello! Thanks so much for having me! I'm so excited to be here to share sneak peeks of "Looks Good on Paper"!

Please summarize the book a la Twitter style for the readers here: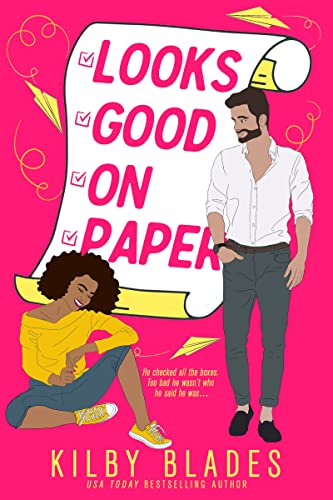 Receiving letters from her Italian pen pal Alessandro is a bright spot in Zuri's drab existence–a worthy distraction from family drama and a dead-end job. When she lucks into a trip to Europe, she can't wait to meet the man she's fallen in love. Little does she know, she hasn't been writing to Alessandro, a simple tradesman, but to his brother Nico, heir to one of Italy's largest fortunes.

Please share the opening lines of this book:
Zuri arrived to work with Lucy still seated at the desk the two of them shared. Being there long into shift change meant she was stuck on a runaway call. "Runaway" was shorthand for customers who wouldn't hang up. The system didn't let customer service reps take new calls within fifteen minutes of clock-out. If Lucy was still there, she'd been on for at least twenty-five.
Please share a few Fun facts about this book…
The story is a penpals to lovers romance that is written partially in the form of love letters
Zuri, the heroine, has a terrible job in customer service with a cheesy dating app called Hookupz and she has to take some pretty terrible (and really funny) calls about disgruntled customers who went on bad dates.
Every book I write has a recipe that goes with it. This book has two recipes: sweet cream no-churn gelato, a component of one of my favorite desserts: Affogato (ice cream drowned in hot espresso). Yum!
An unlikable character in this book eventually gets their comeuppance. I love it when someone gets their comeuppance.
Some of the funnies in this book come from Nico and Alessandro trying to fool Zuri about who's who and being realllllly bad at it.
What first attracts your main characters to each other?
As randomly paired penpals, they start to get to know each other and quickly discover they both love gardening, hate fakes and phonies, and have been betrayed by people close to them in the past. Intimate confessions about their past misfortunes cause them to grow closer.

Using just 5 words, how would you describe your main characters"love affair?
Inevitable
Shy
Bonded
Playful
Sensual

The First Kiss…
"Perhaps we should stop talking about unpleasant people," he murmured. "It is distracting from the beauty of this place."
Nico made no move to resume their walk. Zuri made no move, either. It had been half a minute since her near- fall and still she seemed out of breath. Her hair was pulled back and up and off of her face, though a stray curl moved in the breeze. Nico's body moved before his brain, his fingers reaching out to tuck it behind her ear. He'd meant only to shift it from in front of her face.
"Nico," she whispered, then stopped short of saying whatever had been on the tip of her tongue. Nico, too, felt incomplete, as if he were in a haze. Her body leaned in closer—practically swooned. If the tone of her voice, and the angling up of her chin, weren't an invitation to kiss her, Nico didn't know what was.
Without revealing too much, what is your favorite scene in the book?
My favorite scene (that isn't a big spoiler) would be anything at the beginning of the book that showcases some of the ridiculous customer service calls Zuri has to take while working for the cheesy dating app, Hookupz:
"Hookupz Customer Excellence Team, this is Zuri. How can I help you?"
Zuri's voice was a honeyed song, perked up to deny how tired she was of hookerz and their problems.
"I'm calling to report a user." The woman sounded irritated, already a bad sign for how the call might go.
"How can I help you, ma'am?"
The profile Zuri's screen told her the caller's real name was Candace. Pronouns: she/her.
"His profile is @Anaconda543."
Before Zuri could help, she had to establish a basis for the complaint.
"Did he use harmful language or send inappropriate content through the app?"
"No, not through the app."
Zuri was already scrolling through her profile. @ CandeeGrrl had been dating various men on the app for eighteen months and "hooked up" twenty-two times. "Hooking up" was what the company called it when two users met in person, according to location data. Whether they "hooked up" for real after that was up to them.
"Did he do anything during a personal meeting that places him in violation of community guidelines?"
Candace scoffed. "Yeah, he violated something. He violated a lot of somethings. How 'bout we start with the fact that he didn't have any hair?"
Zuri continued to animate her voice to sound pleasant, interested, and helpful.
"Ma'am, as noted in our terms of service, no photographs posted on or sent through the Hookupz app should be considered recent or accurate portrayals. Member photos depict a snapshot in time that rarely represents a whole person."
Zuri had long-since memorized the legal department's version of: people lie in their pictures.
"He didn't even have eyebrows!" the caller accused. "But you can bet he had eyebrows in his profile picture. You should have him banned."
"I'm sorry, ma'am. Hairless dates are not the experience we want our customers to have. We apologize for the inconvenience. If I'd seen eyebrows in a profile picture, and then there were no eyebrows, I'd be disappointed, too."
"Daggone right, you'd be disappointed," Candace hissed.
"I can't ban him from our community for not having hair, ma'am, but I can put a note on his account."
"In case I didn't make it clear, he did not have hair in other places, not on his arms or legs, not anywhere. That's the kind of thing people ought to have to put, in bold."
It seemed like intimate knowledge for @CandeeGrrl to have about @Anaconda543. Zuri's best guess was she'd liked him just fine until it came to certain other characteristics. Now she had sour grapes.
"Ma'am, health status is a protected class of information. It's possible that his hair loss is related to a medical problem. Under HIPAA laws, we are prevented from collecting or sharing that kind of—"
"Other women deserve to know!"
Zuri stopped talking, letting Candace feel she had the floor. Zuri had already tried reason. The only thing left for her to do was make it clear she wasn't going to relent. When Candace didn't speak after several seconds, Zuri finally vowed, "I'll make a note on his account."
Not even a second later, Candace cut the line, prompting Zuri's most beloved on-screen alert: Call ended. Her other favorite message popped up right below: 35-minute Lunch.
If your book was optioned for a movie, what scene would be absolutely crucial to include?
I would love for there to be a montage of each of them waiting for and opening the other one's letters. The letters are such a big part of the romance ::swoon:: Here is a snippet of Nico waiting for a much-anticipated letter from Zuri:
It was nearly sunset before Nico got everything from his truck into the shed and made progress on weeding. It had been a long time since he'd spent so many hours working outdoors. He went on daily adventures in his forest, driving
his ATV down back roads to survey the status of production tree lots or—in some cases—just to have fun. He took hikes to his private studio, his family's ancestral paper-making shed. And he'd never broken his ritual of chopping his own wood. Though Vanessa had surely tried.
His stomach began to growl at the same moment he realized he hadn't gone back down for the mail. When he'd checked after his trip to the nursery, it hadn't yet arrived. Zuri was so consistent in her replies, he could anticipate the arrival of her letters with precision. A letter from her should be there any day, which was why, instead of food, or even a quick shower, Nico found himself taking the shortcut on his forest path, trekking back to his mailbox in anticipation of her letter.
Readers should read this book …
…because watching two deserving people fall in love one letter at a time is a delicious treat and watching Nico extricate himself from his predicament to earn Zuri's true love is even sweeter.
What are you currently working on? What other releases do you have planned?
I'm really excited about a story I just wrote called "The Prince and the Pundit," a royal enemies to lovers romance about an anti-monarchist who falls in love with the crown prince. It's a novella I wrote for something called the HEA Collective. Dozens of award-winning and best selling romance authors have banded together on Patreon to offer readers four never-before-released, exclusive novellas each month plus bonus content and author chats! "The Prince and the Pundit" releases in September and folks can check it out and The HEA Collective right here: https://happilyeveraftercollective.com
Thanks for blogging at HJ!
Giveaway: I'm so excited to give away one of my special edition swag boxes! Something I do with all of my new releases is put together a few hand-selected items that go with the book and send them out with signed copies. I scoured the globe (literally, had things imported from the U.K. and Italy) to put together all of these goodies for the "Looks Good on Paper" release! You will love this box if you love journals and stationery and fine, luxurious things. Here's what's included in the box:
–A signed, personalized copy of Looks Good on Paper
–An AWESOME Jane Austen travel quote blank journal (they're so awesome, I had them imported from England)
–Designer Florentine letter stationery, imported from Italy
–Via Mercato luxury bar bath soap, imported from Italy
–A limited edition custom recipe card for Affogato (ice cream drowned with hot espresso) + Sweet Cream Gelato (no ice cream maker required)
–Espresso candies
–Bookmarks, stickers and other Kilby things!
Check out the items in the box right here! https://www.kilbyblades.com/kilby-blades-bookstore-signed-copies/it-takes-a-villa-signed-paperback-swag-box-limited-edition-26zkc
To enter Giveaway: Please complete the Rafflecopter form and Post a comment to this Q:

Have you ever exchanged handwritten letters with anyone? Who were they and why did you write to them?
Excerpt from Looks Good on Paper:
"Nico, I'm glad you're here," Alessandro said. "We were just meeting about packaging and displays. You're in Umbria next week, no?"
"What's in Umbria?" Nico asked.
"The annual Europack Expo."
Nico had forgotten about the event he'd been to for all of the past ten years.
"You should be the one to go again," Alessandro coaxed. "Our suppliers know you, and you can begin to court some others."
Stalling, Nico made ceremony of opening his planner. "When did you say it was?"
"The meetings begin on the eighth, which means you should leave on the seventh."
Nico didn't need to lay eyes on that calendar page to recognize the date.
"I have plans on the seventh. I'm meeting with Zuri."
"Who is Zuri?" Alessandro pronounced her name slowly, nearly tripping over it, as if he had never heard it
before.
"Zuri, our pen pal. Remember?"
It took Alessandro longer than it should have for
recognition to dawn. "Ah, yes, Zuri. I forgot about her. You say the two of you plan to meet?"
"She's visiting Italy and plans to be nearby. Naturally, I said we could meet. And we will, at Enoteca Cassano."
The restaurant served the best traditional food in the region. After hearing about her appreciation for fresh produce, and her love for fresh seafood, he was eager to share it with her. By the time she visited, she would have been to paper stores up and down Europe, and he wanted to hear what she thought. He was looking forward to her visit—had so much enjoyed writing to her all those months that he could barely wait to spend an afternoon with her.
Alessandro threw his brother a sly smile. "Is she good- looking?"
"How would I know? I only know her through letters." "You've never Googled her, just to see?"
"See what? I'm not dating her. I'm meeting her for
lunch. Why would I check her out?"
"You must be close if you're meeting with her…"
Alessandro's voice was full of suggestion.
Zuri and Nico did have a certain closeness—nothing
Alessandro would understand. Not that dating Zuri could ever be a possibility, but if Nico were ever to begin dating again, he would very much like to meet a woman with a personality like hers.
"Aren't you the one who wanted me to provide an excellent experience on your behalf?"
Alessandro put his hands up in surrender. "I'm not

complaining. It will be good for you to get out of the house. I'm glad the pen pal stuff is going well."
"What about the pen pal program?" Bianca breezed into the room, looking as if she'd just stepped off the catwalk. Compared to Alessandro and Bianca, Nico always felt out of place.
"Nico is meeting with our pen pal," Alessandro said. "She will be in town next week."
Bianca looked up with interest as she set her bag down. "Your pen pal? Both of yours?"
Alessandro smiled triumphantly. "Nico graciously agreed to be my ghostwriter."
Bianca seemed alarmed. "Your pen pal is coming here?"
Nico didn't like how interested she seemed. "Yes. I'm having lunch with her next week."
Bianca looked between them disbelievingly, then settled her gaze on Nico. "You are having lunch with her. If you're writing for Alessandro, who does she think she will be meeting?"
Alessandro was on his phone again. "He must continue to pretend to be me, of course."
At the same time, Nico said, "I will tell her the truth."
Each brother frowned, then threw a disapproving look at the other.
"Why should I not tell her?" Now it was Nico's turn to look outraged. "It is an innocent enough story. I began writing when Alessandro realized he bit off more than he could chew."
A deep frown creased Bianca's face, the worry it carried making Nico uneasy.
"Nico. If she takes it the wrong way, it will not look

innocent. It will look as if the CEO of Italy's most esteemed paper manufacturer lured a woman to meet him under false pretenses."
Nico frowned, livid at the thought. "Nobody will think this. And Zuri is not the kind of person who would take anything the wrong way. She is a very sweet girl. She will understand."
"You don't know her or what she would do," Bianca argued. "This is a person you have never even met."
"She is a person who I've been writing to for more than six months. Somebody who I know very well, who I consider to be a friend."
"A person who knows you so intimately that she does not know your name?"
There was no way to articulate how much confidence he had in Zuri's character. It was something he could barely explain to himself.
Excerpts. © Reprinted by permission. All rights reserved.


Book Info:
In today's world filled with terrible dating apps and split-second hot takes, all Zuri Robinson wants is something real. And between her crap job, her family drama, and feeling like she completely missed out on her twenties, she's pretty much done. Her only bright spot is exchanging letters with a ridiculously charming guy in Italy. Only Alessandro Fabricare has a teeeeeny little secret…
Nico Fabricare simply wanted to help his brother, Alessandro—who isn't as eloquent with the English language—write a few letters. But with every letter that crosses the Atlantic, Nico is discovering that Zuri might just be the most incredible woman he's ever met…except she thinks she's falling in love with his brother.
Now Zuri is on her way to Italy—to meet Alessandro. And Nico is running out of time to win over the girl of his paper dreams before she finds out the truth.
Book Links: Amazon | B&N | iTunes | Goodreads |


Meet the Author:
Kilby Blades is a USA Today bestselling author of contemporary romance. She is a HOLT Medallion finalist, a Publisher's Weekly BookLife Prize Semi-Finalist, and a RWA Vivian Award finalist, and has been lauded by critics for "writing characters who complement each other like a fine wine does a good meal" (PW). When she's not writing, Kilby goes to movie matinees alone, where she eats Chocolate Pocky and buttered popcorn and usually smuggles in not-a-little-bit of red wine. She is a cinephile, an oenophile, a social justice fighter and—most of all—a glutton for a good story.
Website | Facebook | Twitter | | Instagram |