In The Marriage Match (Suddenly Smitten #3) by Tracy March, Trent Hawthorne is a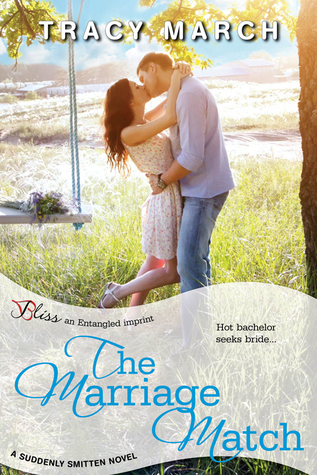 successful resort tycoon. He lives to make his resorts the best possible and keeping them that way, leaving little time for dating or anything else. Which is why he has not been able to find a woman to be part of his life and to marry, and how he soon finds himself part a of business and personal scheme his grandmother has planned to make it happen.
Cynthia Sawyer is "the Queen's" personal assistant. She prefers when she is able to do her job without dealing with her personally for too long. Only this time she has been assigned a job that will be very hands on, but if she carries it out successfully she will be getting a bonus that will help her pay off her parent's mortgage and prevent them from loosing their home.
Cynthia, or Cyn as she prefers to be called, has never lived up to her parents expectations, especially considering how conservative and old fashioned they are in everything, while she has tried to be a little more modern and fit in, which is their major contention. They never approved of her way of dressing, her way of acting and specially her choice of name. But no matter what they are her parents and she can't see them lose their home. Which is why she agrees to help her boss in setting up her grandson with a perfect woman. She has already chosen the thre perfect candidates and now it's up to Cyn to setup the dates and make them perfect enough for one of them to lead to the altar. Using the 3 island resorts they will use Trents dates and his possible romance as the perfect advertisement for the resorts.
But little do they know that the chemistry that Trent's grandmother expects from her candidates and her grandson only exists when Trent and Cyn are together. Creating a lot of trouble for both of their interests. And one kiss shared under the stars will not be easily forgotten and will be the beginning of something that neither of them was expecting.
It will take lots of work from Trent to convince Cyn that she is the one that he wants and to stop her from continuing to push him towards the tree other women. But with a little love, and some perfect planning he might be able to convince her to give them a chance after all.
I loved this story, not only was it fun and entertaining, I loved to be able to revisit with the other characters from previous books and see how their lives are going. This does not mean that you cannot read this book as a stand alone, for you will not be lost and feel like you are missing something at all while reading it.
So if you want something light, fun and very entertaining, don't miss The Marriage Match by Tracy March.
Book Info:

Published January 19th 2015 by Entangled: Bliss
Hot bachelor seeks bride…
Resort tycoon Trent Hawthorne is looking for a wife. His all-business, no-nonsense grandmother (and the matriarch of the small town of Maple Creek) has selected three potential brides―all beautiful and approved. Each "fantasy date" will take place in a lush Caribbean setting, filmed like a reality show to promote the Hawthorne family's chain of resorts. All of Trent's hopes for love combined with a clever marketing gimmick…what could possibly go wrong?
As it turns out, all it takes is a kiss. A sizzling, sweet-as-sin kiss. But Cynthia Sawyer isn't one of the bachelorettes, and she's definitely not supposed to be making out with her boss's sexy grandson. Not to mention it's strictly against company policy. But Cynthia has her own reasons for hooking Trent up with a bride who isn't her as soon as possible. And losing her heart is a price that she's willing to pay…