In Unraveled (Unraveled #1) by Him by Wendy Leigh, Writer Miranda Stone is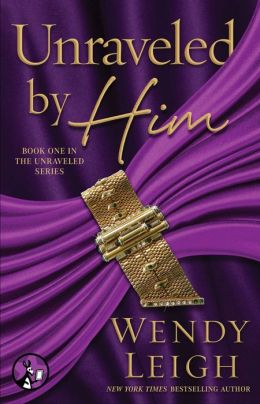 unexpectedly given the opportunity of a lifetime after a blunder puts her in contact with one of the world's richest men, tech genius Robert Hartwell. She's been hoping for the opportunity to some day pen his autobiography and finds that her dream may be within reach. But Miranda is also drawn to Robert as a submissive. He is a Dominant who makes it clear that he is willing to take her under his tutelage and open up a whole new world to her.
'…I now know that he is my Master, the only man in the universe who is capable of satisfying all my sexual desires, of mastering every single part of me and that he is my destiny.'
While their passion sweeps them away, Miranda and Robert find they are a perfect match. However, issues from their individual pasts begin to affect their current arrangement. Doubts creep in, causing Robert to want Miranda to prove herself to be on the up-and-up as a submissive and a ghostwriter, and leaves her wondering if she can trust him to stay committed to her. When everything comes crashing down on them, will Miranda and Robert have what it takes to stay together?
And for the first time since we met, he kisses me, kisses me as if he needs my breath, my tongue, my emotion, or else he will die. When he pulls away from me, and I start to fall back to sleep again, I hear him whispering, "Miranda, Miranda, I've been longing for you my entire life."
Unraveled by Him is the first book in a new erotic trilogy that has a pleasing blend of passion, intrigue, secrets, and love. Plus a shocking cliffhanger that has to be read to be believed.
I'll start right off by saying this is a pretty intense journey into the world of BDSM. No fuzzy handcuffs or playful spanking. Nope. This is the real deal, with floggers, canes, and even dungeons. The relationship between our protagonists moves along at a fairly quick rate. For me, the leap they made from business to pleasure might have been a little bit too fast, but the scenes that followed that transition were smokin' hot and quite well written. There was no shortage of naughtiness, that's for sure. The overall tone of the book was one of passion and lust, but still had an air of mystery to it as the story went on, which was fun to read.
Robert's change of direction at one point in the story (I don't want to give any spoilers here) didn't really make sense to me until he started to explain his past. Then everything fell into place and boy were things in his life different than they seemed. I did like that the plot was very complex which left me wondering who was being truthful and if there was something more sinister going on. I thought Miranda was going to be a straightforward character, but I liked that there was more to her than met the eye. She had a lot of inner strength that was admirable. One of the story's revelations was in regards to Miranda's past. It kind of had me scratching my head with how nonchalant she handled the information, but I have a feeling there will be much more about it in book two.
For fans of erotica, I think this new trilogy will hit some of the same bells and whistles as novels by Lisa Renee Jones, Sylvia Day, and Maya Banks. So if you're craving something new in the world of BDSM, you might want to check this series out.
Book Info:

Published February 2nd 2015 by Pocket Star | (Unraveled #1)
Unraveled by Him embraces the sensuality of Sylvia Day's Crossfire series and sweeping ​mystery and twisty ​nail-biting ​suspense. The first in a spellbinding trilogy that entwines, love, hate, romance, jealousy, lust and a white hot sexual adventure.
This erotically charged roller coaster debut by New York Times bestselling author Wendy Leigh, introduces us to Miranda, a free-spirited celebrity ghost writer who gets swept up into a dark world of passion and glamour​ when she meets notorious billionaire Robert Hartwell,​ an irresistible dominant older man.
After sparks fly between Robert and Miranda, he enables her to live out her wildest dreams of sexual submission, and she, in turn, inflames his dominance in every aspect. Although both of them are haunted by their past demons, they embark on a love affair that is part romance, part sexual exploration, and utterly addictive.
A truly riveting trilogy that entwines mystery, suspense and erotica and which breaks romance world boundaries like never before, fans of Lisa Renee Jones' Inside Out series will find themselves under the spell of the Unraveled series.​