The Marriage Merger by Jennifer Probst: Like many other Jennifer Probst addicts, I have been patiently waiting to read The Marriage Merger from the moment it was given a release date. My composure paid off and I was rewarded with one of the best books of the summer. This is the fourth and final book in the Marriage to a Billionaire series and it is terrific. This is the story of Julietta Conti and Sawyer Wells.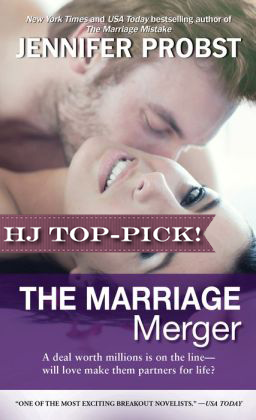 At the nonstop urging and insistence of her happily married sister Carina, Julietta finally casts the love spell that supposedly will bring her the man of her dreams, true love, and happiness. Her predecessors now bask in the accuracy of The Book of Spells, asserting that if you make a list of all the qualities you want in a man, burn the list in a fire, and pray to the Earth Mother, your dreams for a happily ever after will come true. Italian beauty Julietta Conti, a powerful business mogul and CEO of La Dolce Famiglia, is not so sure. A leap of faith is the exact opposite of Julietta's controlling nature.
Gorgeous Sawyer Wells is a self-made billionaire. After his parents died when he was nine, he spent the remainder of his childhood in the foster care system. He ended up living with a monster, who repeatedly beat him and the younger children that were in his care. Without an education, home or money, his future was bleak and he was living on the streets of Manhattan at the ripe old age of eighteen. Luckily, Jerry, a janitor at one of the hotels Sawyer sort of lived in at the time, extended a helping hand. A short time later, Mama Conti provided the guidance he needed to stay on the right track for success. However, the demon's from his childhood continuously repeat in his mind and Sawyer has to work very hard to stay in control. Working out vigorously is one of his vices.
Julietta and Sawyer begin working together on Sawyer's new chain of boutique luxury hotels called Purity. Julietta's gourmet bakery conglomerate will be the hotel's sole supplier of dessert delicacies. They spend a lot of time together and get to know each other. Sawyer realizes that Julietta has never experienced an orgasm and makes it a priority to get her into his bed. He believes she is a submissive and her controlling temperament is one of the reasons why she cannot achieve sexual fulfillment. Julietta believes she is frigid because her past sexual partners have been less than stellar. Luckily, Sawyer's sexual dominance brings out Julietta's submissiveness and she finally experiences an orgasmic epiphany.
Interestingly enough, Julietta and Sawyer are able to work together without skipping a beat. Although they want each other constantly, their lustful encounters do not prevent them moving forward in their business partnership.
However, Mama Conti has a sixth sense and sees the love forming between Julietta and Sawyer. She also sees their stubbornness and phobias regarding personal commitment. Thus, she kindly interferes and requires Julietta and Sawyer to get married for the good of the family business. The marriage merger also satisfies Sawyer's debt to her from years ago and Mama Conti is finally at peace knowing all of her children are married and settled. It takes a while longer for the happy couple to realize that they are each others' soul-mates.
After enjoying the entire series, I am a true believer in The Book of Spells with a little bit of meddlesome Mama Conti on the side. The banter and quick wit between Julietta and Sawyer was savvy. The author has an enticing way of detailing the scenes and surroundings, which made me feel like I was a part of the excitement. The main characters were captivating and well developed. The secondary characters provided a memorable insight into the story that affected me profoundly. And so they all lived happily ever after……..a great ending to a wonderful series. This Series can be read individually or in series order, I highly recommend it.
Book Info

Publisher: Gallery BooksRelease date: July 30, 2013 | Series: Marriage to a Billionaire
Her sisters have found wedded bliss with their wealthy, wonderful dream men, but not Julietta Conte. She's stayed on terra firma as top executive of the family's corporation, La Dolce Famiglia bakery. Work is her passion, and her trendy Milan apartment her sanctuary . . . until Sawyer Wells, a masculine masterpiece in a suit, lures her out of hiding with an irresistible offer: an exclusive partnership with his international chain of boutique hotels.
Julietta's been burned before—and trusting her brother-in-law's friend, whose powerful gaze alone has her rethinking the best use of a conference room, is the riskiest proposition. But with a once-in-a- career chance to take the bakery global, will she mix stone-cold business with red-hot seduction?