In The Vampire With the Dragon Tattoo (Love at Stake #14) by Kerrelyn Sparks, It has been three hundred years, but vampire Dougal Kincaid is almost positive that the woman he sees on the security monitor at Romatech Industries is his lost love Li Lei. He was unable to save her life in China centuries ago, so he vowed that day that he would find her again, even if it took him a thousand years. But could it really be her after all this time? The first burning sensation from his dragon tattoo in hundreds of years leads him to believe so. He finds out the woman is Dr Leah Chin. She is agenetics specialist and will be helping in their fight against Master Han and his army of evil vampires. Well…once she is told vampires are real, that is. With Leah being a scientist, that proves to be difficult. Every time Dougal is in her presence, his tattoo burns and his prosthetic hand malfunctions. He hasn't had any issues with his titanium hand since his physical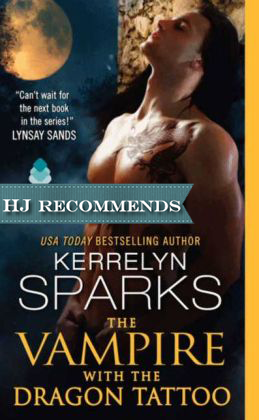 rehab ended a few years ago after he had it cut off in battle. Now if he could just play his beloved bagpipes again as he used to it might sooth his soul. Dougal is worried that Leah will not accept him or the other creatures she previously thought were myths and offers to take her home if she so chooses. That seems to break the ice and instill a little bit of trust between them.
"I know the world is full of weirdos," she said softly.
Och, lass, ye have no idea. But she would be finding out soon. He had a sudden urge to teleport straight to her and take her away, far away from a world of vampires and shifters and demons. But how could he protect her from the weirdos when he was one of them?'
Dougal is promoted to head of security at the Romatech facility in New York and is cleared to go on missions. Although he is relieved they trust that he is strong enough physically for the job, he feels like he should be close to Leah so he can keep her safe. No matter what he does he is drawn to her and it seems she feels the same way even though she is fighting it. Every advance Dougal makes with Leah ends up with him feeling a step behind before the next crisis arises. When Master Han begins to use mortals to fight his war, the vampires at McKay S&I have to step in. Dougal is not comfortable with Leah being part of the mission and tries to ensure her safety any way he can. Unfortunately the demon Darafer has special abilities in comparison to the vampires and uses them to his advantage. With Leah's life potentially in danger, Dougal must decide, along with his fellow vampires, on the best plan of attack. But will Darafer prove to be too powerful against them, or will they be able to save Leah and a number of other mortals who are also in danger?
'A strange sense of calm stole over her, a sense of inevitability, as if her entire life had ticked away slowly for the sole purpose of arriving at this one moment in time. She knew without a doubt who he was. She'd felt him watching her all evening. He was the man behind the camera.'
Dr Leah Chin is excited to have a chance to work with the renowned Dr Lee on a special project. She had no idea that her life would be turned upside down when she traveled to New York and that everything she thought she knew could change so drastically, though. From the moment she feels someone watching her behind the security cameras, she knows something strange is going on at the Romatech facility. Leah thinks she is part of a practical joke when she is show a mutation on a microscope slide and she's told it is from a vampire. It wouldn't be the first time people had tried to be cruel to her. But as she realizes the people in the lab are being serious and she puts the pieces of the puzzle together, she starts to panic. Then she sees him. Leah knows Dougal was the man watching her. His expressive green eyes and beautiful face captivate her but she can't trust him. He's is supposedly a vampire as well.
'But this was no ordinary man. She couldn't let herself get drawn in. Not with him. Deep in her heart she knew he had the power to devastate her more than any other man on the planet.'
After their next encounter scares the daylights out of her, all Leah wants to do is leave and go back to Houston. But she's shocked when Dougal apologizes and proves to her that he can be trusted after all. They explain to her that she has an opportunity to help save hundreds if not thousands of lives, so how can she refuse? Dougal and the other security team members are there to protect her, okay so she thinks with Dougal it's mainly so he can romance her, and she also forms a friendship with fellow mortal scientist Abby. Although she doesn't intend to, she falls completely for her handsome Scottishman Dougal. Especially after hearing him play the bagpipes just like her beloved grandfather did. Then the unthinkable happens just after she admits her feelings and her safety is put on the line. She tries to have faith that Dougal and the rest of McKay S&I will rescue her before it's too late, but she seems to be just a moment away from being taken over by the evil that surrounds her.
I must say that every time I read a Kerrelyn Sparks novel I become completely engrossed in it to the point of getting a little annoyed when I have to put it down. I don't want to stop reading! And I truly have no idea how she is able to balance the sweeping romance and hilarious situations together in her stories, but it works perfectly every time. Hopefully I won't be the only one who almost made a fool of myself laughing so hard that my co-workers thought I was crazy when you all get to read the scene with Dougal and VANNA. Absolutely hysterical!  No, but seriously, Dougal and Leah are both completely captivating characters and I can't say enough wonderful things about them. Even though this is book 14 in the series, and there are a LOT of secondary characters, it is definitely possible (and worth it!) to jump right in and read this as a standalone if you're new to Kerrelyn's books.
Book Info

Release date: August 27, 2013 | Series: Love at Stake
He's out of control
Dougal Kincaid has something to prove. After being injured in a battle with the Malcontents, he's ready for active duty protecting unsuspecting mortals from these villainous vampires who want to rule the world. But first he has to get control of himself . . . because just the sight of a certain lovely doctor has his injured hand doing some peculiar things, not to mention the sizzling sensation that burns along his dragon tattoo . . .
Vampires? Vampires?! As a scientist, Leah is having trouble believing that these immortal creatures exist. But there they are, standing in front of her, asking for help in solving a genetic puzzle that can save mankind. There's even one in a sexy kilt! Just one look into Dougal's gorgeous green eyes sets her pulse racing. But can she trust him—and the overwhelming desire that refuses to be ignored . . . ?