Zane by Brenda Jackson is the first book in the new Westmoreland trilogy. If you like your romance with a lot of heat, then your going to want to get your hands on this super sexy romp.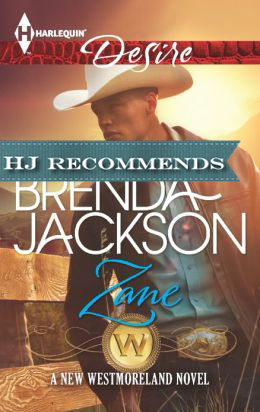 Sexy cowboy, Zane Westmoreland, is known for his womanizing ways. He is bound and determined to never fall in love. Two years ago, Channing Hastings walked out on Zane because she wanted to find a man that could give her the love that she deserves.
When Channing receives a wedding invitation from Zane's sister, she decides to attend the wedding with a fake fiancée in tow. Zane becomes worried for Channing when her fiancée proves to have roving eyes. He sets out to convince Channing that she has chosen the wrong man.
When Zane invites Channing out to dinner she readily accepts his invitation. While dining in a private room, things heat up quickly between the two and they end up having sex on one of the tables. But Zane is still adamant that he doesn't love Channing, so she takes off and leaves again. This causes Zane to realize that he does truly have feelings for Channing and he goes after her and tries to win her over.
Zane has his job cut out for him. Channing isn't falling for his professions of love. I loved watching Zane and his romantic gestures toward Channing. When Zane confesses that he has had a hard time loving anyone since the death of his parents, my heart went out to him.
Channing is a charming character. I loved her strength and the fact that she refuses to settle for anything less than she deserves. It is fun to watch Channing give Zane a run for his money.
Zane is a fun romance with a lot of hot lovemaking thrown in. There is sex in the restaurant, in a car and even up against a refrigerator. Brenda Jackson pens authentic characters in real life situations. This was may first Westmoreland novel, but I am definitely hooked now and I must go back and read the other stories. It might take me a while, because there are twenty-four of them. You don't want to miss this smoking hot gem!
Book Info

Publication Date: July 1, 2013 | Series: Harlequin Desire (Book 2239)
From New York Times bestselling author Brenda Jackson—the first of a new trilogy starring three Westmorelands who are impossible to resist: Zane, Canyon and Stern.
No woman walks away from Zane Westmoreland. But when Channing Hastings does just that, it leaves the rancher reeling—and then she returns to town, engaged! Zane will do whatever it takes to show her that there is no man for her but him.