In The Match of the Century (Marrying the Duke #1) by Cathy Maxwell, Elin Morris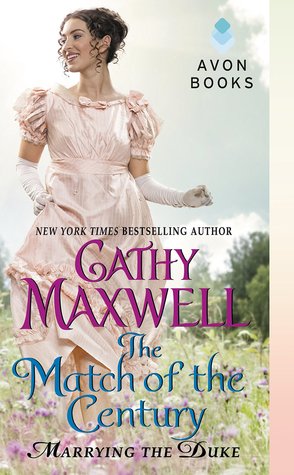 has spent years trying to reconcile her heart and her mind when it comes to the two men in her life: brothers Benedict Whitridge and Gavin, the Duke of Baynton. She has been betrothed to Gavin practically since she was born, thanks to the friendship between their parents. But Ben was her childhood best friend and later her first love. After a sudden separation broke Elin's heart, she wrote Ben off as careless and crass. But now that he's back in London, it appears her heart is still in tune with his. How can she decide which to follow: her heart or her family duty as the Heiress of Morris?
'…He had the impudence to claim he'd loved her? His idea of love and hers were obviously very different, and she knew because she'd loved him. Oh, yes, she had loved him.'
Ben always knew that not only was he not as important in his family's eyes as his older brother Gavin, but that falling in love with Elin, the one promised to his brother since childhood, would be a terrible mistake. But there was no way Ben couldn't fall for such perfection as hers. Years after having to leave her to go to the battlefield, he thought he'd changed enough to turn a blind eye to Gavin and Elin's betrothal. Turns out he was wrong. Now Ben will do anything to win her love and her hand in marriage. Even if it tears his family further apart.
"No, I'm not letting you hide behind the title. Speak to me, Gavin. Shout at me, rail at me–throw another fist at me. Live, man. Live."
In response, his brother looked at him, his eyes hard shards. "She's mine."
The Match of the Century was a love triangle set at the very start of the Regency period. Full of drama, some laughs, and hidden love, Ben and Elin's story was a complicated but endearing one.
"We are going to do very well together, Elin," he promised. "I'm going to kiss you."
"I know." Her voice had gone low and husky.
After having a couple of small issues with it at the beginning, I came to enjoy this first full length novel in Cathy Maxwell's newest series quite a bit. I was blown away with the prequel novella, A Little Thing Called Love, which was the story of Elin's parents falling in love and how Elin became betrothed to Gavin. I would highly recommend reading it to get the full benefit of knowing why she makes certain comments about her parents and when she then compares herself and Ben to them.
I think while reading this romance, I was just taken back a bit by some of the liberties Elin took. She referred to her mother by her first name, as well as confessed of things that happened between herself and Ben to her mother that, while I applauded Elin for being so open and honest, was not something that seemed to go with how things were handled in that time period. Like I said, it was minor, but it clouded my opinion of Elin until I saw her interact with Ben, Gavin and others. Then I got more of a handle on her fiery personality.
What I really enjoyed aside from the love that had been between Ben and Elin since childhood, were the changes in Gavin and Ben's estranged relationship. I won't give away all the details, but let's just say that they were not raised in a loving household where the brothers got along and everything was wonderful. The animosity between them came to a head and the fallout let them begin to figure out who they were as men and how they could (possibly) get along in the future. Loved. That.
A seemingly hopeless love between childhood friends became the catalyst for action, adventure, family disputes, and a HEA that will hold you captive in its grip. The Match of the Century was a solid and very sweet historical romance.
Book Info:

Publication: November 24th 2015 | Avon | Marrying the Duke #1
In New York Times bestselling author Cathy Maxwell's glittering new series, wedding bells are ringing… until the return of a rake throws a bride's plans—and heart—into a tailspin…
Every debutante aspires to snag a duke. Elin Morris just happens to have had one reserved since birth. But postponements of her marriage to London's most powerful peer give Elin time to wonder how she will marry Gavin Baynton when she cannot forget his brother, Benedict.
Already exasperated at being yanked from the military to meet "family obligations," now Ben must suffer watching his arrogant sibling squire the only woman he has ever loved. Joining the army saved Ben from sinking into bitterness, but seeing Elin again takes him back to the day they surrendered to their intoxicating desire.
As the wedding draws near, Elin tries to push Ben far from her thoughts. When danger brings them together, there is no denying their feelings. But can Elin choose love over duty?