In A Christmas Miracle for Daisy (Taming of the Sheenans #5) by Jane Porter, Christmas is a time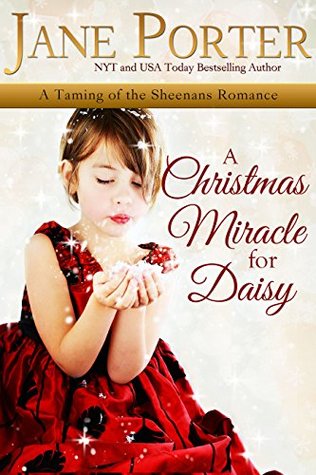 for miracles, and that's exactly what Cormac Sheenan's daughter wants more than anything. But when she enlists the help of Kris Crinkles, the town's Rent-a-Santa, Cormac is furious because he doesn't know whether he can make her wish come true. Especially when he's not looking for love or marriage, and the one woman that has always had his heart, finds it impossible to forgive him for what he did in the past.
She's good for you. You're not the Ice Man you used to be."
"Ice Man?"
"You could be pretty chilly when you wanted to be."
He was silent a moment. "I suppose that's true. I'm sure it's true. I froze you out, didn't I?"
I've had a few people recommend books by this author, yet I haven't had the pleasure of reading any of Ms. Porter's work until this story. And I've got to say, this was an incredibly sweet and captivating Christmas story, embracing the second chance romance trope, a little girl desperately wanting her Christmas wish to come true, and a hero looking to earn forgiveness.
As for the dialogue, it was well-written and filled with plenty of fun moments. Such as the jokes Santa tells, Cormac's references to the movie Frozen, and the teasing banter between Whitney and Cormac in the moments she lets her guard down. Yet, it also gets quite intense, as Whitney struggles to deal with all that happened between them in the past, and whether she can forgive him. My heart broke for the heroine in those moments. Because Cormac taking away the one person that meant everything to her, and the way he did it seemed so unfair.
He chuckled. "What do you call a kid who doesn't believe in Santa?"
"I don't know," she answered, tugging the cellophane from the candy.
"A rebel without a Claus."
She laughed. "I like that one. I think it's my favorite so far."
Both the main and secondary characters were delightful, and Kris Crinkles is an absolute hoot. He brings such joy to this story, and I loved the advice he gives to the hero and heroine. Since it is advice they desperately need, if they're to give Daisy the miracle she wants. While with Whitney and Cormac, they have quite the history, and I could understand her need to ask him for space during the past two years. He's a painful reminder of everything she's lost, and it's made her bitter towards him, so it's better for her if they have limited contact. Yet, Cormac is determined to – at least – try to regain the heroine's friendship. Even if he – at first — has to manipulate Whitney and then give her what she asks for — the chance to prove her design skills. He's also very benevolent with his adopted daughter, and will do anything to protect her, to give her what he thinks she needs. Especially after the incident that has him returning to Montana to be closer to his family.
Overall, Ms. Porter has penned a wonderful second chance romance that tugged at my emotions throughout this story, yet left me with a smile at the end because, if anyone deserved happy ever after, it was Whitney. The ending wrapped the story up perfectly, and illustrates how Christmas can bring the best gifts of all — love, family, happiness. I would highly recommend A Christmas Miracle for Daisy by Jane Porter, especially if you enjoy holiday romances.
Book Info:

Publication: November 20th, 2015 | Tule Publishing | Taming of the Sheenans #5
Media Mogul, Cormac Sheenan, had no desire to become a family man, but when his two year old goddaughter, Daisy, is orphaned, he adopts her, moving her from Montana to his home in Southern California, and becomes a devoted single father, juggling parenting duties with running his successful publishing, TV, and radio enterprise.
But two years later a frightening incident at Daisy's school, shakes Cormac, and he decides to move Daisy–and his business–back to Montana where life is simpler and he has family nearby.
Now four, precocious Daisy strikes up an unlikely friendship with Marietta's seasonal Santa Claus, and believes he's the real thing, even though Cormac points out to her that this jolly old Kris Kringle is renting a room at Bramble House, not living at the North Pole. Daisy's not worried but Cormac is as Rent-a-Santa has promised his innocent daughter she'll have a mommy for Christmas.
Cormac is livid with Kris. He's not at all ready to settle down, and he's definitely not getting back together with his old flame Whitney Alder, so Santa can stop playing match maker as it'd take a miracle to make him fall in love, never mind marriage material.
But that's exactly the kind of miracle our angelic Santa Claus has planned…
Taming of the Sheenans series
Book 1: Christmas at Copper Mountain
Book 2: Tycoon's Kiss
Book 3: The Kidnapped Christmas Bride
Book 4: Taming of the Bachelor
Book 5: A Christmas Miracle for Daisy