First Love Again by Kristina Knight is all about second chances. A second chance at love and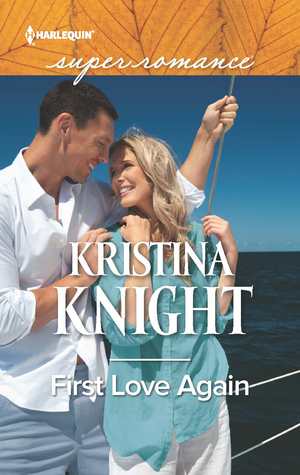 a second chance at life…if only we have to courage to reach out and take it.
10 years ago Jamie Brown was attacked. Since then, she lives her life in fear. Fear of loud noises and of people who get too close to her. Her fear is what keeps her on Gulliver Island. What Jamie went through is horrible and something you wouldn't wish upon your worst enemy, but it's been ten years and she's learning to get passed it until Emmett comes back into her life.
Emmett Deal has been gone 10 years, but since his dad has been diagnosed with dementia it's time to fix up the old home and sell it for the best offer. He plans to put his father in an assisted living facility close to him and forget about Gulliver Island once and for all, but seeing Jamie again makes his heart beat a little faster. If only he can remember that Jamie is the reason Emmett left in the first place. They were hot and heavy in high school, but one stupid mistake was all it took to change the course of their life. Emmett has it in his head that he is responsible for Jamie's attack, but he's not and if he doesn't change his line of thinking, he will lose her forever.
Emmett makes her face her fears and reach for the unthinkable…a life beyond Gulliver Island. As these two get closer again, their feelings come back stronger than ever. Jamie realizes Emmett is only in town for a short amount of time, but he makes her feel alive and she wants to grab as much time as she can with him.
"God grant me the serenity to accept that he is leaving, the courage to sleep with him, anyway, and the wisdom to not fall in love with Emmett Deal again."
I really enjoyed the characters. I loved how strong Jamie was. She was able to get on with her life despite what happened to. She understood who was to blame for that night and she's not letting anyone else take the blame. I liked how Emmett made Jamie feel. He made her want to better herself and to see the world. She just needed a little push and Emmett did that for her.I really loved the details about the island. I thought it was really fun how the islanders got around town by golf cart or bicycles. Makes we wish I lived on the island.
Overall this was a cute story and anyone who loves second chance romances would appreciate the read.

Book Info:

Publication: November 1st, 2015 | Harlequin SuperRomance |
Some loves deserve a second chance…
Coming back to Gulliver Island after a ten-year absence to take care of his father should have been simple. Emmett Deal would fix and sell the family home, and return to Cincinnati with his ailing father in tow. Yet something compels him to stay a little longer. The beautiful, bright eyes of Jaime Brown.
Ten years ago, traumatic events changed the course of Jaime's life forever, catching her in a small-town life she can't escape. Emmett's return stirs up the memories she wanted to ignore…and dreams she had forgotten. Now she finds herself with a rare opportunity–a second chance. Only this time, it's not just for love..