The Matchmaker Bride by Ginny Baird is the second book in her Blue Hill Brides series.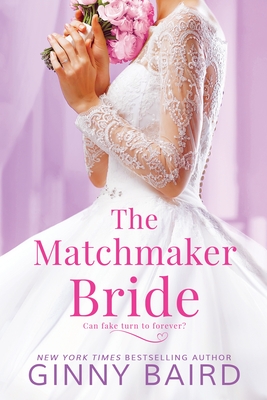 Meredith Galanes is a matchmaker with her own TV show in Boston. The show was doing quite well so hopes were high it would be syndicated. Although Matchmaker Meredith was highly successful with the couples she matched she wasn't doing such a great job with romance in her own life. After being caught out when asked about her own romance on a talk show Meredith fibbed, to keep hopes of getting the syndication deal alive, and indicated the love of her life was a boatbuilder in Maine.
The media figured out just who Meredith was referring to and descended en masse on the poor man, cameras rolling and microphones shoved in his face. Meredith had to fix this. When she arrived at the poor guy's cabin she proposed this fake engagement to hopefully save the syndication deal in exchange for helping Derrick Albright get back together with his ex-wife. Meredith never would have guessed that she'd fall for the guy herself. Especially not after their initial meeting at his brother's wedding the year before.
Derrick Albright couldn't believe the media hoard that showed up at his cabin. His response to their questions was, "No comment" and his door slammed in their faces. When the woman who drove him crazy at his brother's wedding the year before showed up he almost slammed the door in her face too. The pot roast she brought him got her inside his door. Derrick agreed to her crazy plan but had his doubts about reuniting with his ex-wife. He made an effort but somehow it was Matchmaker Meredith that he started falling for.
This was a really fun enemies to lovers/fake engagement story. I fell for this storyline from the beginning and laughed and loved along til the end. The characters are great. Meredith and Derrick are a fun couple. One of the best scenes in the story was the family baby shower and the games they played. One game was a timed diaper change of baby dolls with peanut butter smeared throughout the diaper area. The pair who changed the doll's diaper after cleaning up the mess won. The way Derrick accomplished the task was really funny. This is an entertaining series and I'm sure the next book will be as fun to read as this one was.

Book Info:

Publication: July 27th 2021 | Entangled: Amara | Blue Hill Brides #2
A delightful romantic comedy from New York Times bestselling author Ginny Baird…
Successful Boston matchmaker and television personality Meredith Galanes's reputation is on the line. During a guest appearance on a morning talk show, she's broadsided by questions about her own romantic attachments, just as she's trying to secure a syndication deal. Afraid to admit her love life is a total disaster, Meredith blurts out that she's seriously involved with a very special man—a boatbuilder in Maine. She never expects that small slip to get spun into a story about her supposed engagement.
Or that the paparazzi will track the guy down…
Derrick Albright is laid-back about many things. Being hounded by the press about some imaginary engagement to a woman he's only met once—and couldn't stand—isn't one of them. Then Meredith actually shows up at his cabin in Blue Hill, Maine, with an apology, a pot roast, and a proposal—play along until she secures her TV deal, and she'll help him win back his ex.
It's a simple plan, but if they have any chance of pulling it off, they'll have to survive each other first…
Each book in the Blue Hill Brides series is STANDALONE:
* The Duplicate Bride
* The Matchmaker Bride