The Matchmaker's Replacement by Rachel Van Dyken: Longtime enemies, Lex is forced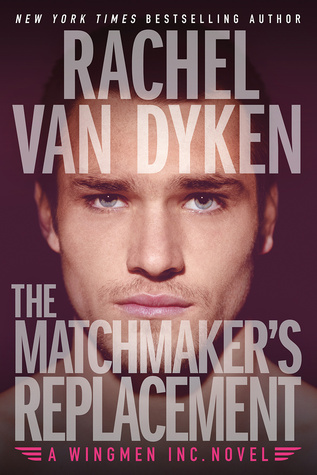 by their mutual best friend to work with Gabi to train her up for his matchmaking company. But, even as they hate each other, both have held a longtime attraction to the other. And to worsen the situation, due to Gabi's financial situation she's going to be his new roommate.
But as they bicker, fight, and argue, a closer relationship begins developing, and soon enough they become sources of comfort for one another. And as barriers begin falling, their attraction rises hotter and hotter.
Except, Lex is the definition of arrogant manwhore and promised years ago to Ian, their mutual best friend that he would never go there with Gabi. So both will have to choose, the strongest friendship, or to trust the other will be there when they fall.
"Why the hell did you bite me?"
"You said you wouldn't get turned on!" I fired back, pointing at the front of his sweatpants.
He smirked. "That was before you bit me. All bets are off when teeth are involved, Sunshine."
The Matchmaker's Replacement was fantastic. I love a hate-to-love relationship, and this story definitely delivered. Their fighting is fun and cute, and continues throughout to my definite joy. And, they're very sexy together with lots of passion.
Together and separately I loved Gabi and Lex. I do wish Lex was a little clearer with his feelings. There was a little too much back and forth, saying how deeply he felt then a scene later suddenly it's a new discovery. But even so, it's a sweet and slow and passionate fall for both of them as they realize and accept their love for one another. And Lex, especially, manwhore and often enough an arrogant jerk, he had an earnestness I couldn't help but adore when it came to Gabi.
I highly recommend The Matchmaker's Replacement for those who a love a sexy and funny New Adult read. It has a great and funny cast of characters, a fantastic and deep romance, and I could not put it down.

Book Info:

Published: July 26, 2016 | Skyscape | Wingman Inc. #2
Wingman rule number two: never reveal how much you want them.
Lex hates Gabi. Gabi hates Lex. But, hey, at least the hate is mutual, right? All Lex has to do is survive the next few weeks training Gabi in all the ways of Wingmen Inc. and then he can be done with her. But now that they have to work together, the sexual tension and fighting is off the charts. He isn't sure if he wants to strangle her or throw her against the nearest sturdy table and have his way with her.
But Gabi has a secret, something she's keeping from not just her best friend but her nemesis too. Lines are blurred as Lex becomes less the villain she's always painted him to be…and starts turning into something more. Gabi has always hated the way she's been just a little bit attracted to him—no computer-science major should have that nice of a body or look that good in glasses—but "Lex Luthor" is an evil womanizer. He's dangerous. Gabi should stay far, far away.
Then again, she's always wanted a little danger.