The Midwife's Nine-Month Miracle by Shelley Rivers: Even though Gila is a little over eighth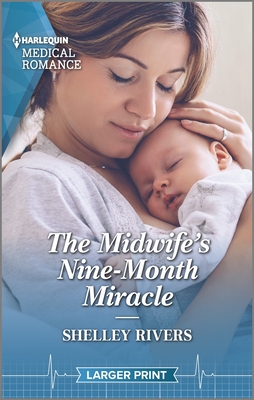 months pregnant, she is still working a couple more days as a midwife. She is resigned to the fact she may be a single mother since she and her doctor husband Leo are separated. She is getting used to being on her own when her life is flipped into turmoil again when her estranged husband shows up to work temporarily at the same hospital.
Gila had thought she and Leo had a special marriage, but things went downhill after Leo's sister Jodie died from a drug overdose. Jodie had been addicted to drugs for a long while, but Leo blamed himself for not being able to save her. With his grief, Leo shut everyone out, even Gila. Gila couldn't handle this and had to leave to preserve her sanity and be able to concentrate on her patients.
Some of Leo's attitude and withdrawal is understandable. His sister was twelve years younger than he was and he had practically raised her along with a few early nannies. Their parents were more concerned with their lifestyle and thought of having children as just what people in their set did.
Gila didn't have a perfect childhood either, but she seemed to be able to move beyond it with determination and drive. It is ironic that when Gila goes through childbirth it's hard for her to give herself the same advice she has given her patients. Part of the end of this novel reminded me of a more modern version of the TV show "Call the Midwife".
There is medical suspense mixed in with second chance romance in the storyline. I would have give this book an even higher grade without as much of what I call emotional wallowing. Overall, this novel is uplifting and hopeful.
Book Info:

Publication: July 26, 2022 | Harlequin Medical Romance |
Meet a husband and wife in need of a miracle in Shelley Rivers's latest touching Harlequin Medical Romance.
A baby…
…to heal them?
When nurse Gila said "I do" to a lifetime of love with Dr. Leo, she never imagined that their one-of-a-kind connection would be ripped apart just as she discovered she was expecting a baby. Now Gila is eight-months pregnant—and stunned to learn that her estranged husband has become her temporary colleague! While Gila and Leo are determined to co-parent their child, will a workplace reunion lead them to the happily-ever-after they once dreamed of?