In The Magic of Lemon Drop Pie by Rachel Linden, Lolly Blanchard's entire childhood revolved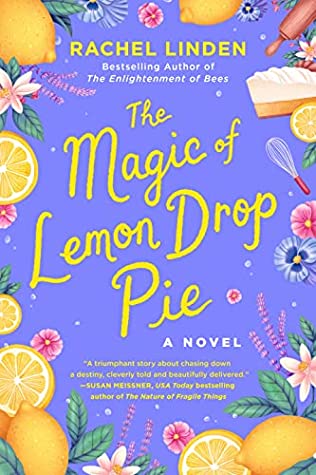 around her family's diner, The Eatery, on the outskirts of Seattle. Having so many years of experience in food service has her hoping to one day own a farm-to-table restaurant in England alongside the only man she's ever loved, Rory Shaw. But Lolly's plans are dashed when her mother dies unexpectedly when Lolly is in her early twenties. All of her dreams are pushed aside so she can help run the diner, make her mom's famous lemon pies daily, and take care of her father and younger sister. Nowhere, unfortunately, does that leave time for Lolly's relationship with Rory.
'Be honest. Pay attention. Seek joy.'
Years go by with Lolly in a holding pattern: work at the diner, watching over her sister and father, maybe the occasional visit with her bestie Eve, and longing for another shot with Rory. It's when she finds an old list of life goals–none of which she's accomplished yet at almost thirty-three–that her Aunt Gert takes her aside and tells her to follow her bliss. Which makes Lolly wonder, is that even an option? Turns out, it is. At least with the help of three magical lemon drops that can supposedly help her see what would happen if her biggest regrets righted themselves. Spending a day in three different versions of her life opens Lolly's eyes as much as it breaks her heart. But it also gives her a smidge of hope that maybe there's still some bliss out there waiting to be found.
'You don't need magic to change your life. You just need to follow your bliss as best you can. If you follow the light, no matter how dark the circumstances, things will come out right in the end.'
The Magic of Lemon Drop Pie was an introspective journey of a woman who was stuck in every aspect of her life. Sentimental, bittersweet, yet still filled with joy and love in unexpected moments, Rachel Linden crafted a touching story that will be relatable for most readers.
'What if I could actually turn back the days and months and years and make a different choice, taste a different life? How remarkable would that be? What a gift–to start afresh.'
Absolutely lovely. That was my first thought upon finishing The Magic of Lemon Drop Pie. In between the first and final pages, though, I will admit that my heart took a beating with every tough decision Lolly had to make and every tragedy that happened to her and her family. Particularly when they lost her mother at a young age and she had responsibilities lumped on her shoulders that changed the course of her life–that hit home for me in a big way. Then there was the magical realism with the lemon drop candies. It was both fun and poignant, as to be expected. But for Lolly to get glimpses into what her life could have been like if things had been different, if she'd have made other choices? It was utterly captivating.
Lolly was a quirky but lovable heroine who had a unique fashion sense–retro 50s style–whose family and loved ones meant everything to her. That's why the loss of her beloved mom and the struggle to keep the family diner afloat hit her so hard. In some ways it did turn Lolly into a bit of a martyr. But it was obvious that she was trying to keep her promise to hold the family together and keep their family legacy going, no matter what. Even at the cost of her own personal life and career plans. There was a whole lot of soul searching to be done on Lolly's part. And the chance to see what could have been helped push that introspection along. But I think Linden left things in the most glorious way, after a surprising twist brought things full circle for our heroine.
QOTD: Can you think of any books you've read that use "magical realism" as a key element in the story?
Book Info:

Publication: Published August 2nd 2022 | Berkley |
An uplifting novel about a heartbroken young pie maker who is granted a magical second chance to live the life she didn't choose. . . . from the bestselling author of The Enlightenment of Bees.
Lolly Blanchard's life only seems to give her lemons. Ten years ago, after her mother's tragic death, she broke up with her first love and abandoned her dream of opening a restaurant in order to keep her family's struggling Seattle diner afloat and care for her younger sister and grieving father. Now, a decade later, she dutifully whips up the diner's famous lemon meringue pies each morning while still pining for all she's lost.
As Lolly's thirty-third birthday approaches, her quirky great-aunt gives her a mysterious gift–three lemon drops, each of which allows her to live a single day in a life that might have been hers. What if her mom hadn't passed away? What if she had opened her own restaurant in England? What if she hadn't broken up with the only man she's ever loved? Surprising and empowering, each experience helps Lolly let go of her regrets and realize the key to transforming her life lies not in redoing her past but in having the courage to embrace her present.