Seducing Mr. Right by Rebecca Rose is a military romance, which is an interesting genre since it can be taken in so many directions. In this case, the subject is PTSD, and returning back to life and love after a traumatic war experience. Sophie Agnés is a retired ballerina who wants nothing to do with dance, and has just been hired as the manager at the Hungry Lion Bar-n-Grill. On her first day at the job, she finds Jake Sanders, co-owner of the bar, and brother to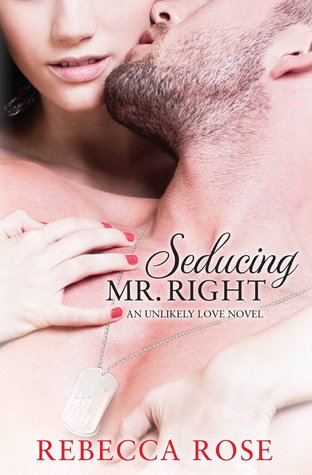 Dave, the other co-owner, sleeping off a drunk night, nearly naked, on the office sofa. Sophie takes it all in stride, and even takes a moment to ogle the sleeping man:
…Sophie relived the memory of his strong naked torso and legs. She would definitely have a little fantasy about him later. After all, Sophie was a woman who appreciated a good-looking man.
The good-looking man on the couch, however, is a bundle of instability wrapped in a very handsome, yet scarred, skin. His war experiences have left him feeling emotionless and separate from the rest of the world, although he had sought treatment after he was discharged. To further his recovery, he also swore himself to celibacy two years earlier. However, now that he has met Sophie, he finds himself attracted to her:
"Sophie, why am I so attracted to you?" He propped his chin on one hand and stared down at her. "You're slightly bitchy, physical when provoked not to mention, rebellious."
Sophie feels it too, and doesn't do anything to stop it. However, Jake, knowing that he's troubled, tries to put breaks on their attraction and interaction at every step. His brother Dave encourages their affair, however, as do Jake and Dave's loving and very supportive parents. Jake and Sophie find themselves flirting and touching, often, but Jake doesn't know if he will ever be ready for a relationship again because of his PTSD. Can this attraction build into a real relationship? Or will they both decide that it's not worth the hard work and walk away?
This is novel of contrasts. Jake's PTSD burden is nearly completely internal: flashbacks can overtake him unexpectedly, he has problems concentrating and working, he has anxiety and OCD. Sophie is troubled in her own way, but her problems are more external rather than internal. Her parents, especially her mother, were highly invested in her ballet career, and when she decided to break up with her last boyfriend, her ballet instructor, and quit dancing, they did not take it well. She has money and personal self-confidence, but doesn't have the support or love of her family. Jake, on the other hand, has love and support but is missing something inside due to his mental illness. Their strengths and weaknesses complement each other, and they are both needy in their own ways.
There is a lot to like about this book, but it has its flaws. In the Acknowledgments Rebecca Rose says that she took two years to write and research this book, and you can really see the effort that was put into the book. The characters in general are likable, even when Jake is suffering and acting out. This book is funny at times, tender, and is excellent at displaying complex family relationships. However, the prose and relationships can be abrupt at times, and at points it reads like a guidebook on how handle a relationship with someone who has PTSD. This is not necessarily a bad thing, but when it happens it takes the reader out of the book's world view.
Book Info:

Published April 1st 2014 by Forever Yours
Gunnery Sergeant Jake Sanders made it through the war in Afghanistan, but he's struggling to survive the peace at home. Still scarred by his experiences overseas, Jake now spends most of his time working out and tending to his brother's bar and grill. He's not looking for a girlfriend and avoids intimate relationships . . . until he meets the bar's gorgeous new manager.
Ex-ballerina Sophie Agnés couldn't take her eyes off Jake the moment she saw him-he was, after all, sleeping half-naked in her new office when she arrived on her first day of work. The chemistry between them is immediate, and soon it's not clear who is seducing whom. But Sophie fears that something is keeping Jake from opening his heart to her. And a man with dark secrets may not be the right man for her after all.