The Million Pound Marriage Deal by Michelle Douglas: What would you do for a chance to start over? Is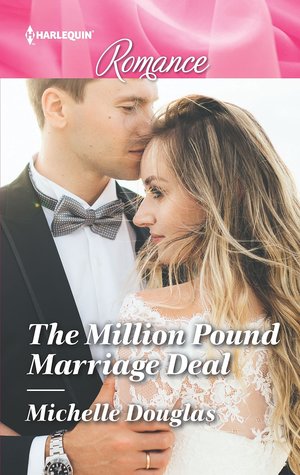 it even possible to truly start over, especially when your past is always right there?
Sophie Collingford was praying that one day she would be able to at least move forward. In the two years since her brother passed away she couldn't believe the person that she had become. Or the one she was up until recently, now she was determined to move forward and make amends will recreating herself. The problem was the guilt and those she just couldn't let go of.
William Trent-Paterson knew the feeling of guilt. After all wasn't it in the bro code that no matter what happened family was off limits? However deathbed promises were meant to be kept no matter what. The problem wasn't the promise so much as how it was interpreted though, that was a whole other matter and then when his family throws him a curveball well he just isn't sure how to play the game anymore.
Will and Soph have been friends for many years so when a causal statement is taken seriously it actually doesn't seem half bad. The problem is these two have enough baggage for a separate train. Can they leave all that behind and take off to the future?
Ms. Douglas has given her readers and interesting story and one I admit to having a hard time putting down. Though interestingly enough not because of the romance, though while there wasn't the forefront. In fact I would list this under chick lit more than anything else. It is a wonderful showcase for how strong a woman can be when so many things are stacked against her. This novel is all about I am woman hear me roar, without being political or overwhelming and for that alone Ms. Douglas should be applauded. Take a read and then look inside yourself to recognize just how strong you are.

Book Info:
Valerie| 4 Stars | Nope! | No |
Publication: Expected publication: September 4th 2018 | Harlequin Romance |
A marriage of convenience…
With a price!
Billionaire playboy Will Trent-Paterson has one year to get married. His father will disinherit him if he doesn't settle down, leaving his vulnerable sister homeless! So when his old friend Sophie Mitchell jokes that she'd marry him for a million pounds, a temporary marriage seems like the perfect solution! Until, after spending time with captivating Sophie, Will realizes walking away will be the hardest part…