In The Millionaire's Deception (Men of the Zodiac) by Wendy Byrne, Rafe McCall is the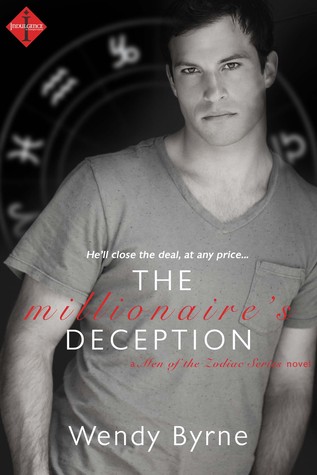 Closer, the guy that will get that deal when other have not been able to. So when he is hired to convince a small restaurant owner named Frankie Ritacco to sell his business for a property development, he believes that it will be a piece of cake. But things are not as simple, for first he believes Frankie to be man, and the truth behind the deal is not what he thinks.
Frankie loves her small town and wants to preserve it. She knows that it's mainly elderly people, but if she doesn't stand up to them they will lose their homes and she will lose the only family she has. Not to mention that she just knows that if they sell out, their beautiful town will turn into another tacky gambling town with even tackier strip clubs, like the town next to theirs became.
When Rafe first walks into the restaurant he immediately likes the look of the waitress and wants to get to know her more. But first he needs to get all the information he can to convince Frankie to sell. What he doesn't expect is the waitress to in fact be the Frankie the owner or like her as much as he does.
The chemistry between them is incredible, but he needs to find her weakness and push her to sell. But in order to do that he will have to find a way to stay in town, and since there is no hotel nor bed and breakfast in town, he will have to think of a way to convince someone there to give him room for a while, and the best way to do that is by having problems with his bike and being unable to leave town until he finds a way to fix it.
Frankie doesn't believe that a man as hot as Rafe can be interested in her, she has always been the girl looked over, and cheated on. So when he first leaves she believes that it was only a passing fancy of his, but when he walks back in saying his bike won't start, and asks for help finding a room she can only think of renting him the apartment upstairs that used to belong to her parents, and is next to hers.
As Rafe and Frankie spend more time together, the more the chemistry and attraction between them grows. But with all the lies and problems between them, how can Rafe make their relationship work? You will need to read it to find out.
I really recommend this book, it was not only a great read, it was a fun and very entertaining one. The differences between Rafe and Frankie are quite a bit, Frankie focusing on love and family, while Rafe only focuses on money and the bottom line. Making what they both want just a little more difficult to achieve. But while together, they will each learn what their own actions and decisions are leading to for other people and how it affects them. And the banter between them is something that will keep you entertained till the very end.
If you want a fun read that will keep you turning the pages and unable to put it down, don't miss The Millionaire's by Wendy Byrne.
Book Info:

Published February 23rd 2015 by Entangled: Indulgence | (Men of the Zodiac)
He always wins. And she never gives up…
Rafe McCall has a reputation as the Closer. He rakes in serious cash to make deals happen. Convincing small restaurant owner Frankie Ritacco to sell his business for property development should have been a piece of cake. So Rafe blows into Wilcox, Iowa on his Harley, convinced the deal is all but done. But he is so, so wrong…
For starters, "Frankie" is a woman. A stunning, stubborn woman who wants to preserve her idyllic small town. The Crossroads Café is a family legacy Frankie plans to leave to her future children, and there is no way she's selling—even to a sexy millionaire who makes her heart race. But her café is in serious trouble, and Rafe must decide if he can close the deal…or if he's found the deal breaker of a lifetime.