The Millionaire's Italian Invitation by Ellie Darkins: Ally and Caleb have become best friends through a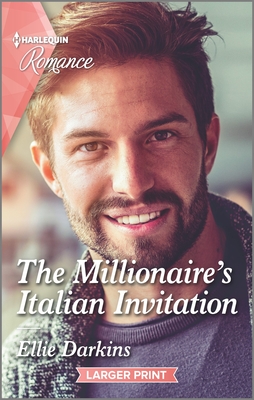 constant stream of online conversations over the past year. They are finally going to meet in person, but not for the usual reasons. She needs to escape being pushed into a singles cruise by her well meaning parents. He has to prove to his siblings and significant others that he is not a total recluse and has a girlfriend. Ally and Caleb already know each other fairly well. They will just have to create an affectionate front to convince Caleb's family and send photos to Ally's parents.
Caleb has sort of distanced himself from his siblings, but he is getting them all together to stay in an Italian home he inherited before he sells it. Caleb's relations are overjoyed to see he has a love interest. Will Ally and Caleb be able keep their friendship and not let the ruse relationship turn into the real thing?
Both Ally and Caleb have some heavy emotional baggage from the past. Ally was an only child and when she became ill with leukemia at a young age it colored the rest of her life. She has always run in the past when boyfriends got too serious. She is afraid she could get sick again and cause heartache. Caleb's parents just abandoned the family when he was still very young and left him in the care of his older siblings. He is afraid they resent him and has tried to stay mainly on his own so they no longer feel responsible for him.
The reader can see how the two protagonists have built walls around themselves. You still want to root for them and let them see there is hope for a better future. It's often very hard to get past trauma from the past.
The vivid scenery the author describes is mesmerizing. The food mentioned sounds delicious. I have often found a way to try foods that were in novels and could see why they were included in the storyline. Whenever I read about locations I've never visited, I always learn new facts in an entertaining way.
The Millionaire's Italian Invitation is the third in a series. You can read it on its own very easily. I continue to enjoy books by author Ellie Darkins and look forward more in the near future.
Book Info:

Publication: September 27, 2022 | Harlequin Romance | The Kinley Legacy #3
In the final story of The Kinley Legacy trilogy, a friendship that began online results in red-hot chemistry. Escape to Italy in this whirlwind romance by Ellie Darkins.
From on-screen friendship…
…to in-person chemistry!
Lone-wolf tech millionaire Caleb Kinley is waiting to meet his online best friend, Ally, in person for the first time. Inviting her to Italy was impulsive, but pretending they are dating will stop his family interfering in his love life. Only, taking their relationship offline means he can no longer keep a comfortable distance. And his instant red-hot reaction to Ally has him wondering if he even wants to…