In Devil of Dublin by B.B. Easton, The first time Darby Collins traveled from America to Ireland to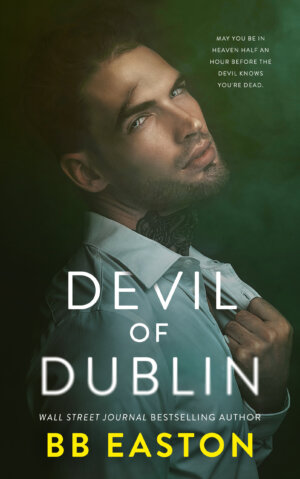 meet her grandpa at seven-years-old her entire life changed. And not just because she fell in love with his small sheep farm and the wondrous forest that surrounded it. It was because of the boy she found, alone and hurt, in those woods. Darby knew right away that Kellen Donovan wasn't the monster the villagers in Glenshire made him out to be. He was no son of the devil, he was her fairy prince. Just like in the Irish folklore her grandpa told her about. Even though Kellen couldn't speak, he and Darby had conversations in their own way as they spent days in the forest forming ties together that would later save their lives.
"Before I met you, I'd been convinced that I was weak. Worthless. Unworthy. I never fought for myself. I never thought I deserved better… You opened my eyes. You showed me that power is something you take back, not something you wait to be given."
Every time Darby landed in Ireland, the first thing she wanted–no, needed–to do was find Kellen. And each time, there he was, skinny, bruised, and still mute, but happy in his own way to see her. Little did Darby know that she was Kellen's only solace in a world filled with hatred and abuse. Finally being shown kindness changed his bleak life for the better. But years later, after the two were separated, both going through their own personal trauma, Kellen finally reunites with his fairy princess only to witness her with her new fiance. From that moment on, things go out of control in the worst of ways. And it is up to Darby and Kellen to right the wrongs in their lives while figuring out if their bond is strong enough to survive the truth of what they've both endured–and to find a way to heal together.
"The truth is that I've been yours since the moment we met. I thought you were magical then, and I still do. You are my past, you are my present, and according to a thousand-year-old lake spirit, you are my eternity."
The Devil of Dublin wasn't the easiest read due to the heaviness of its dark content, but it was a *powerful* story of healing, a tender love story between two battered souls, and even had lovely touches of magical Irish folklore.
'I met Darby's deep green gaze and felt nothing but need. The need to protect her, the need to please her, the need to possess her, body and soul.'
Content warning: View Spoiler »Murder, physical and sexual abuse including rape, suicidal thoughts, child neglect. « Hide Spoiler
I cannot tell you how much I loved this book. It will likely be too much for sensitive readers due to the atrocities both main characters, Kellen and Darby, suffered at the hands of others. But above all the trauma, author B.B. Easton somehow infused a slowly building sense of hope for these two people, beginning with their first meeting as children in the forest behind Darby's grandpa's house in Ireland and continuing on into adulthood.
As their friendship and bond grew with every encounter, Kellen and Darby became a team. And as adults in their early twenties, when they finally met again, the tragic situation they were forced through had them strengthening that connection while taking their lives back, basically with them fighting against the world that took so much from them. It was intense. It was absolutely heartrending and had me in tears. But it was worth it to see Darby and Kellen find each other again and to see just how deeply their love for each other ran.
Based loosely in part on Easton's family history (which was explained in the Author's Note at the end of the book), Devil of Dublin was as epic a love story as it was an emotional tale of abuse and hardship. But, oh, the joyful ending–which, okay, brought me yet again to tears–will make readers' hearts sing as things went full circle for Kellen and Darby, the way their love solidified.
QOTD: Have you read any "us-aginst-them" type of novels where the male and female lead characters band together to find their way out of a tough situation?
Book Info:

Publication: September 22nd, 2022 | Art by Easton |
From the Wall Street Journal bestselling author of 44 Chapters About 4 Men (inspiration for the Netflix Original series Sex/Life) comes a dark mafia romance steeped in Irish folklore.
I can't remember anymore if my grandfather's eyes were blue or green, but I'll never forget the way they wrinkled at the corners when he laughed at one of his own jokes. Or the way they sparkled with mischief when he told me tales about the magical creatures that dwelled in the forest behind his humble Irish sheep farm—shy fairies who liked to eat tea biscuits, cruel witches who liked to eat children, a moody lake spirit with a taste for expensive gifts.
As a child, I believed every fantastical word. But when he warned me about the mute boy who also lurked in those woods, the one the priest had declared to be the spawn of Satan himself, I refused to listen. Kellen wasn't evil. He was kind, and beautiful, and special, and hurting. He was my friend. And with every summer I spent stolen away with him in those enchanted woods, he grew to become so much more.
But when I return to Glenshire as an adult, grieving and engaged to someone else, all those legends quickly morph into nightmares.
My grandfather had been right about everything, especially the boy.
If only I had listened.
WARNING: If you are a sensitive reader or find certain topics to be emotionally triggering, please exercise self-care and select a different book. Devil of Dublin is intended for mature audiences who enjoy dark subject matter, tortured anti-heroes, explicit adult content, graphic violence, heart-pounding suspense, fairy-tale worthy love, and gorgeous Irish scenery. If that sounds like you, then welcome to Glenshire!