The The Movie Star's Red Hot Holiday Fling by Christine Glover, is a nicely put together novella that brought me to tears on more than a one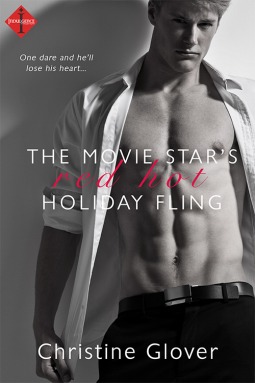 occasion. It is the story about former marine Jessie Sullivan and her untiring quest to serve once again, even with a severely damaged leg. Every day she puts herself through an extremely rigorous physical therapy session, in hopes of being strong enough to pass the firefighter physical, and again be a part of a team that helps others. She is a smart, sassy, and beautiful woman who believes that love will never happen for her, because no man would ever be able to overlook her deformity, or deal with her horrific memories of the war. When action movie star Blake Johnston arrives at her parents' inn to attend his sister's wedding, life as she knows it takes an amazing turn for the better.
Blake's childhood was not happy, yet he managed to get through it, raise his younger sister, and become a talented and famous actor. Staying in shape is a big part of his livelihood, so meeting Jessie at the inn's fitness center was bound to happen. They have an instant chemistry, which they both decide to explore while Blake is in town for the holiday season. At first their fling is based on lust, yet very quickly they begin to fall for each other. Blake sees Jessie as a hero, not a woman with some emotional and physical battle scars. Jessie sees Blake as the wonderful man he is, not some celebrity with millions.
Overall, I liked both Jessie and Blake and enjoyed their witty banter. Their ability to be themselves with each other was heartfelt and uplifting. However, the story itself was a little choppy and lacked some continuity between scenes. In a nutshell, this is an emotional novella, with two well-defined characters and a happy ending that I enjoyed very much.
Book Info:

Publication: November 24th 2014 by Entangled Publishing, LLC – Indulgence
Determined to qualify for the fire department's grueling physical, former marine Jessie Sullivan never gives up, despite the pins in her leg. The last thing she needs is a tall, incredibly hot action movie star sharing her gym…and who makes her want to trade in her reps for some sexy physical activity. Of the naked kind.
Blake Johnston is more than just a Big Screen Sex Machine, and he's willing to prove it. Especially to a spirited and sexy ex-marine like Jessie. But when a harmless dare leads to sizzling fireworks, Jessie and Blake's workout ends up generating some serious heat between the sheets. And it's more than Jessie could have imagined. Much, much more.
But flings don't last forever. And in two weeks, Jessie will have to say goodbye to her red-hot Christmas fantasy…