Married One Night by Amber Leigh Williams: Olivia Lewis wasn't really a one night stand kind of a girl, alright maybe she was. It was Vegas after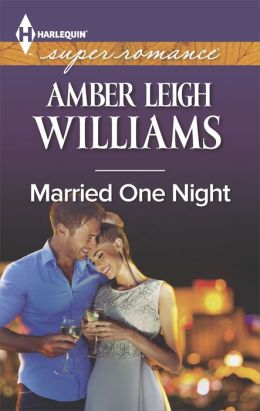 all, right? Waking up with someone you didn't know wasn't the worse thing in the world. What happens in Vegas stays in Vegas, right? So she would just go home back to her nice safe tavern and everything would be normal again.
Gerald Leighton, author, lover and Earl? He was defiantly not your one night stand kind of a guy. He may have been a little drunk in Vegas, but there was a connection that no one could deny, except for her. So when he was still thinking about her weeks later he knew he had to find her.
So what happens when your one night stand from Vegas just happens to show back up in your life? In your hometown? With earth shattering news? Your world tilts just a bit of the axis, throw in a car accident and a horse of a dog and who knows what you will end up with. Will Vegas stay in Vegas? Or will Vegas become reality?
This is one heck of a romance that focus on the actual romance of these two rather than lust. Ms. Williams has a way with her words that makes the reader wonder what is going through Olivia's head without actually telling her readers. The gift is that she has us reaching for more each and every word. This is a story that is not to be missed by an author who is incredibly gifted with her words and though a bit lengthy it was worth every word.
Book Info:

Published October 7th 2014 by Harlequin Super Romance Series #1954
What happened in Vegas…followed her home!
Olivia Lewis is not the marrying type. So when a wild weekend in Vegas leaves her with a surprise husband, she's happy to sign anything to erase her mistake—even if that mistake is handsome, charming and comes with an English accent. Fortunately, her groom has other plans.
Bestselling author Gerald Leighton knows he can make his new bride fall in love with him—he just needs time. In exchange for a quickie divorce, Olivia grudgingly gives him a few weeks to attempt to woo her. And whether Olivia likes it or not, Gerald plans on using every second to win her heart!