The Nanny Proposition by Rachel Bailey: Liam Hawke thinks he has everything in the world, he's rich, thriving lifestyle, and a great family. Then on the way to a meeting his entire life changes with just one phone call. Jenna Peters, ran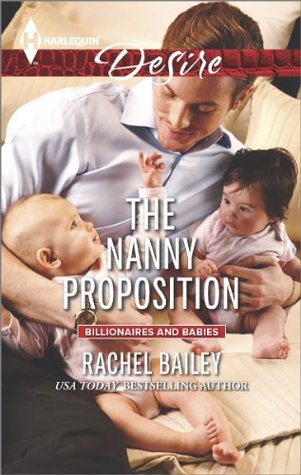 far far away when she learned her world was going to be turned upside down. Now she is in hiding as a housekeeper for Dylan Hawke yet when Liam walks in this next time her entire world is turned upside down again.
What happens when two adults and two babies are put together in unexpected ways? What will happen when Liam figures out that Jenna is hiding something? Or when he finds out what that something is? What will Jenna do when she realizes her heart is lost? Will this be a fairy tale ending?
Ms. Bailey has created a wondrous world with the Hawke family. Between Liam and his brothers not to mention his parents, I can only hope that this is the beginning of a series. Her descriptions of the players have them jumping to life from the pages and enacting her words. While yes, the story is very fairy tale it also has the element of realism and some pain, from the loss of parents. This is a story that has somehow managed just the right recipe of heat, sweetness, romance and reality. Or as Ms. Bailey put it "That sounds like a recipe for heaven."
Book Info:

Published August 1st 2014 by Harlequin
Two babies…one scandalous secret!
Discovering he's the father of an orphaned newborn rocks botanist Liam Hawke's world. But that's where nanny Jenna Peters fits in—a single mother herself, she immediately works her magic on his newborn daughter. Soon Liam himself can't resist being spellbound by this beauty.
Jenna tries to keep her irresistible boss at arm's length but it's a losing battle. Once Liam finds out who she really is, she'll have to say goodbye to the man she loves and their unconventional family…unless the seductive single dad makes her a proposition this undercover princess can't refuse!