In Chad's Chance by Elley Arden, Chad Whitman has been running the family diner. But now that his father is retiring he wants something more, something to make his mark, only finding it and then convincing his father and his brother Adam to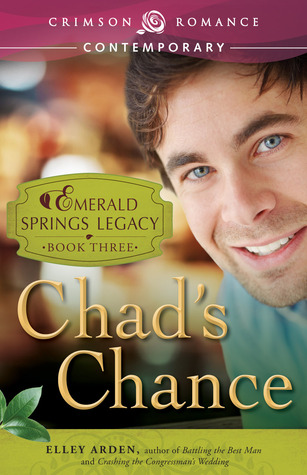 back him up will not be easy.
Jen Chavez has just been fired from her dream job, all because she is a woman and brew masters are still a mainly man world. As she is leaving the brewery she is thinking and planning ways to survive until she can find her next job. But she will not give up nor will she do what her mother dedicated her entire life to doing. Then she runs into Chad, a rich man whom she immediately dislikes just because of his wealth, nothing personal.
At first Jen just wants to leave and forget about everything, but her way of coping has always been to use a man and drink beer. She is not sure she want to follow that train of thought with Chad, but considering he loves her brew and has a keg he is willing to share with her, she is re-thinking her first choice.
When Chad meets Jen, a thought hits him of just what he wants to do. He wants to turn the diner into a microbrewery, but first he has to find a brew master and convince his family to support his dream. Good thing that he found Jen and knows that she is looking for a job, hiring her as a consultant in order to convince them will make things much easier.
Only Chad has a fame for always getting involved with the wrong woman, and hiring her is a double edged knife, for even though she can help him with his dream, she is a beautiful woman whom he is interested in and will make his family keep a closer eye on him and what he is doing.
Jen and Chad have a lot of chemistry, but things are not easy for either of them. Jen has lived a tough life with her mother, whose life work was latching onto wealthy men to fund her easy life style. Making Jen into a completely self-reliant and independent person to the extreme. She will not accept help nor will she ever evade her responsibilities. While Chad has always been viewed as the playboy and not very serious about work, so him wanting to start a new enterprise is not something that everyone will immediately support. And having Adam as the perfect eldest sibling and the Daniel with his business management degree leaves him feeling like he has to work harder to prove himself. Add the fact that Jen and Chad can barely stay away from each other without acting on their feelings and you know that things are going to get complicated and fun real fast.
If you want a sweet and fun read, don't miss Chad's Chance by Elley Arden.
Book Info:


April 7th 2014 by Crimson Romance | Emerald Springs Legacy #3
Meet Chad, the third of five unforgettable characters in the Emerald Springs Legacy.
Life in the small town of Emerald Springs, Washington, is anything but slow and peaceful. An old feud between former business partners Whitman and Sanders keeps competition on a high burner, fueling resentment, renewing rivalries … and love. Now someone is trying to bring down Emerald Tea Farm, and it's up to both families to protect their future while still wrangling over the past.
Chad Whitman loves his family, but he's not entirely sure he shares their responsible, deliberate outlook on life. Where's the excitement and passion in that? Running the family diner has been moderately fulfilling, but with his father retiring from the tea farming business, he needs to get a direction.
After being unfairly fired from her dream job, Jen Chavez picks up her worst nightmare in the parking lot—a rich guy she thought was just another pretty face. She has no intention of turning out like her mother, latching on to wealthy men for self-worth and survival. She doesn't need a man. She needs a job.
Chad decides turning the diner into a microbrewery will provide the excitement his life lacks, and he knows just the person to help him with the job. But hiring Jen as a consultant to the project has its drawbacks. He has a reputation for messing around with the wrong women, and his family is watching his every move. As days pass, his desire to open a top-notch microbrewery is matched only by his desire for Jen. Can they overcome their backgrounds to make this microbrewery a dream big enough for both of them?