The Night That Changed Everything by Helen Lacey: Winona aka Winnie has been best friends with Grant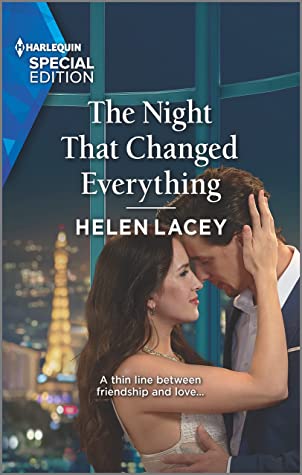 since they were very young. They were there for each other through tumultuous childhoods and each gave the other a shoulder to cry on.Winnie has always wanted to get married and have a family. She decides to elope with a Marine, who she has mainly had a long distance romance with for eighteen months. They are to meet at a Las Vegas chapel. Of course, Winnie has to invite BFF Grant along. When she is literally left at the altar, Winnie drowns her sorrows with Grant with lots of honeymoon suite champagne.
They both wake up the next morning with the foggy memories that they got married last night and had a mind-blowing "honeymoon" night.
What happens next is a both the poignant and humorous journey of how the two work their way through what to do about their changed circumstances. Grant has always been afraid of a long term relationship after having an abusive childhood. The author shows how he has to deal with lots of emotional baggage. He does have a lovely supportive family. I was totally engaged by all these secondary characters. Since this is the fifth in a series, I am sure several of them have already had their stories told, but the author makes the plot involving them easy to follow.
Winnie hides lots of her feelings, not even sharing with her beloved grandfather, who has raised her. She has also let her timidity hold her back by not taking the leap to start a business of her own. As we follow her story arc, we see that love and support give her more confidence. She truly grows at long last.
I love that a ranch is part of the setting. There is something special about being close to nature and animals that is heartwarming to me. The Las Vegas wedding chapel setting is clever. I have only been in the airport in Las Vegas, but can only imagine the gaudy atmosphere.
I look forward to Joss' story coming soon from this wonderful writer.
Book Info:

Publication: June 29, 2021 | Harlequin Special Edition | The Culhanes Of Cedar River #5
He vowed to always be there for her…
But not as her husband!
Winona Sheehan and Grant Culhane have been BFFs since childhood. So when Winona's sort-of boyfriend ditches their ill-advised Vegas wedding, Grant is there…with his sexy smiles and way too much consolation! Suddenly, Winona trades one groom for another—and Grant's baby is on the way. With buddy boundaries crossed and a yearslong secret crush fulfilled, Winona wonders if her husband is ready for a family…or firmly in the friend zone.