Mistaken for Love by Delancey Stewart: Ginny has had her entire life turned upside down in a single moment, not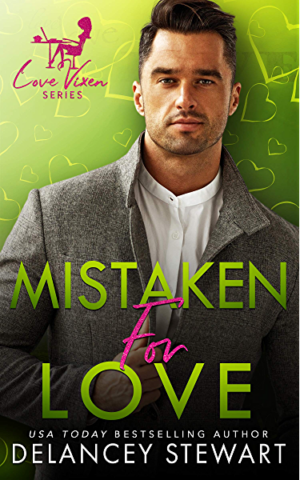 only did she lose her home and college plans but she lost both of her parents. This is how she finds herself in the hassle and bustle of New York City, working in her aunt and uncle's bodega to make a bit of money. Feeling completely out of her element and lost, things take an interesting turn when Ginny is sent of on a coffee delivery to some big high-rise. What should be a regular delivery soon turns into a case of mistaken identity, where Ginny is mistaken for the new intern.
Soon Ginny finds herself falling deeper and deeper into this lie, especially when she begins to form a close connection to her new not-boss-boss Bryce. For the first time in a long time Ginny finds herself actually happy but will telling the truth really set her free or only crush her already hurt heart?
This was such a cute little read, realistic not so much but cute nonetheless! Mistaken for Love is book seven in The Love Vixen series, however it can easily be read as a standalone novel. I love a good office romance as much as the next person however I just felt that Ginny and Bryce's romance moved a tiny bit to fast. I however love the connection between these two and how easily they connected with each other.
Gosh did my heart break for Ginny, she really has been given a hard hand in life but I loved that she still had such a fighting spirit. I loved the relationship she had with her aunt and uncle, and that they helped her create a new home. However it was Bryce that really stole the show, I loved that he was genuinely such a great guy and such a down to earth boss. He was the complete opposite of most alpha heroes, not only did he want to prove and work his way up in the company but he also cared about the people working with him. My only hang up aside from a few plot holes, was that Ginny and Bryce's entire relationship moved pretty fast. Also who doesn't go to HR on their first day of work, like that is mandatory.
Mistaken for Love is definitely worth a read, if you are a fan of a fast paced office romance then this book is the one for you!
Book Info:

Publication: July 23rd 2021 | Delancey Stewart | The Love Vixen #7
Dear Love Vixen:
I've been a little … down on my luck. (Like flat broke, homeless, and depressed). So my uncle has been letting me crash at his place and deliver coffee for his diner. It was temporary. Till I got on my feet.
Anyway, I delivered coffee to this uber-hot executive type on Madison, and well … mistakes were made. He thought I was his intern! And he put me to work. And I've always kinda wanted to work in advertising so I didn't correct him.
I've been interning there now for two weeks, and the thing is, I think there's something developing between me and the hot boss. And I love this job (it'd be better if I was getting paid, of course). But when he finds out I'm not who he thinks I am, and that I never bothered to correct him, it'll all be over!
What should I do?
Mistaken Identity on Madison
Dear Madison,
What the whaaat? First it has to be said, "You go girl!" There I said it, now let's break it down. You've been working for two weeks and are still fake employed, so that says you're doing well at your fake job. I suppose you could just stop showing up but you don't sound like the kind of woman to ghost.
Having the hots for your boss, now that's a real pickle. Sweetie, you know what you have to do. Tell the truth and it will set you free. You just might want to check with the coffee shop as plan B should your truth set you back on the sidewalk.
Good luck, hon!
The ♥ Vixen